The Best Basement Remodeling In Weston, WI
Tired of letting all that valuable basement space go unused? Here's the best solution to fix that!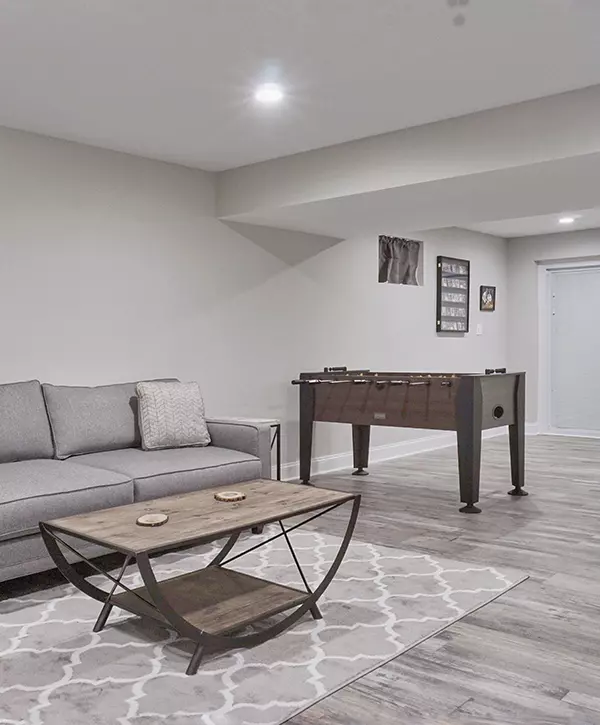 Many homeowners are not fully maximizing the potential of their basements. While we understand that the kitchen and bathroom are top priorities, we can't stress enough the significant return on investment you can achieve by remodeling your basement.
Just imagine… instead of spending a fortune on an addition, you can transform the 2,000 sq. ft. of existing space at a fraction of the cost! And here's the best part – you're in the perfect place to make it happen!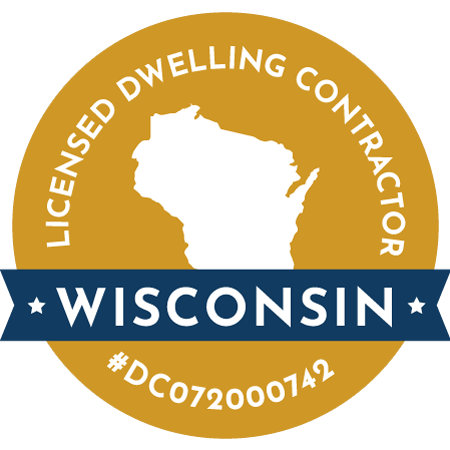 Licensed Dwelling Contractor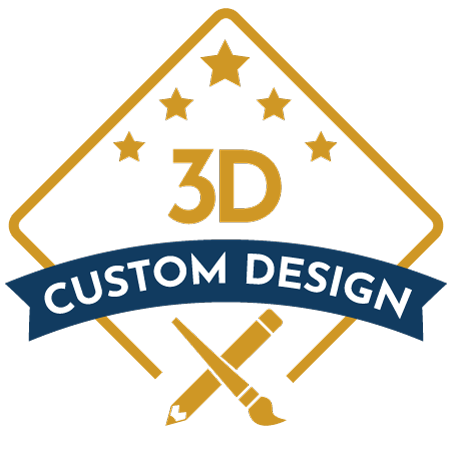 Professional Custom 3D Designs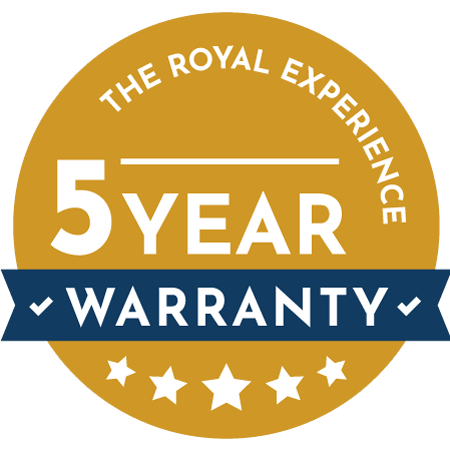 5-Year Workmanship Warranty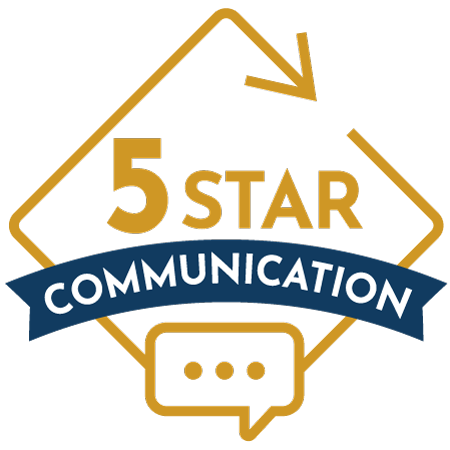 Constant Check-Ins and Updates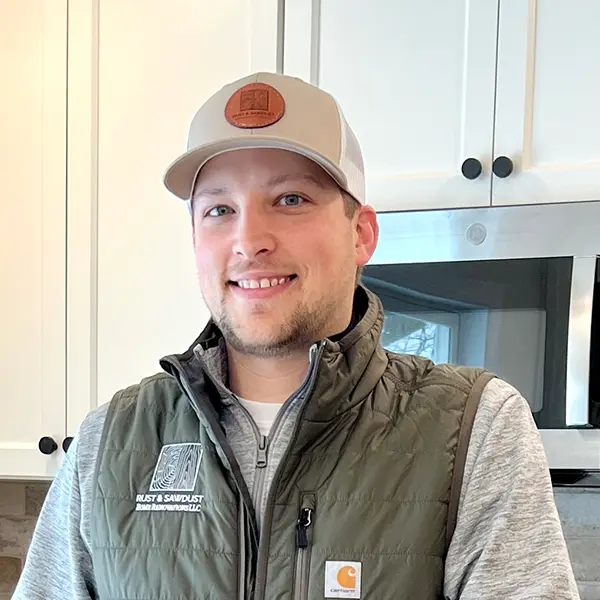 Justin Pagel, owner of Remodeling Journey.
Hi, I'm Justin, owner of Remodeling Journey. We are a remodeling company dedicated to upgrading your home while being respectful of your space and your family time.
From our stress-free design process with 3D designs, provided project schedules, to our transparent communication and our 5-year workmanship warranty, we turn a dreaded home renovation into a pleasant remodeling journey with an upscale experience.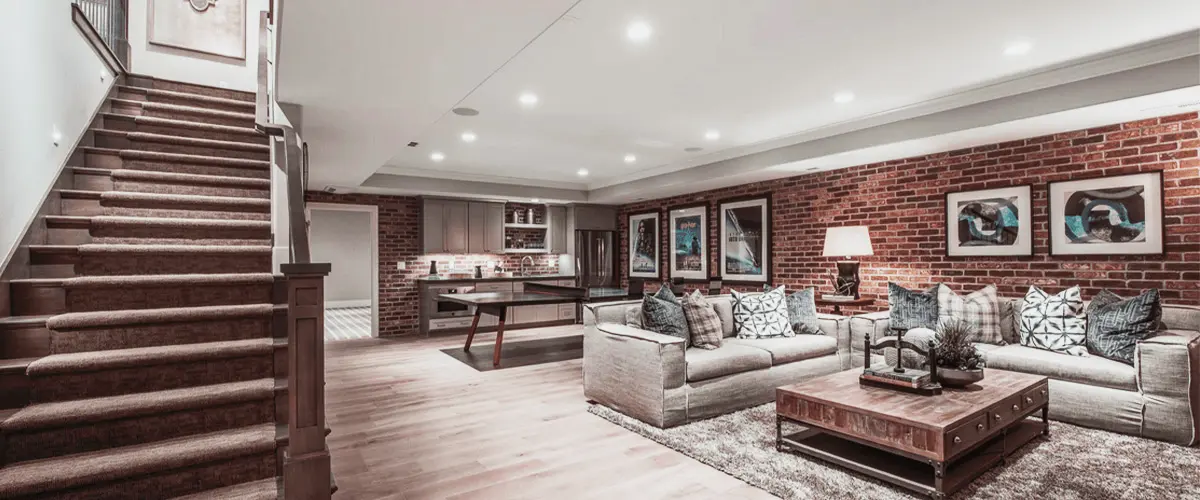 A Complete Basement Remodeling Service In Weston, WI
At Remodeling Journey, we go above and beyond, offering you some unique perks that no other professional in the area can match. We make sure your investment is worth every single dollar!
Let's build the perfect basement!

Check Out Our Portfolio And Get Some Inspiration!
Our portfolio is proof of our superior craftsmanship. We take pride in our work and want people to know they can still get quality work done on their homes at a fair and sensible price. Here's what your basement can turn out like!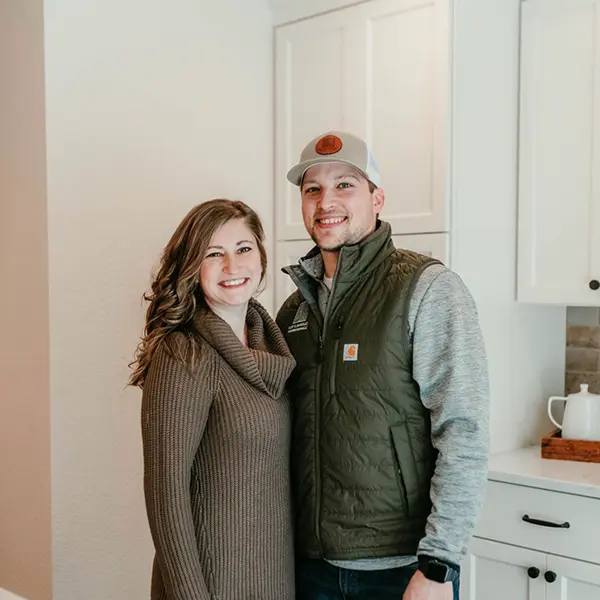 If we've convinced you that you're better off working with a reliable pro, give us a call at
(715) 551-7328, or request your free quote now!
We have your best interests at heart so we can offer you a personalized service that ends with your complete satisfaction!
Your Neighbors Loved Working With Professionals
We've had dozens of homeowners in Weston tell us how happy they are with their new basements. See for yourself what they're saying!
Rust and Sawdust did a phenomenal job on our entertainment center as well as the updates to our mantle! We couldn't be happier! 
The couple work together to capture not only the decor feel of the built in but also functionality! 
Would highly recommend for any project!
Rust and Sawdust helped me with some handyman work. 
They were very easy to work with, showed up at the scheduled time and Justin did exactly what he said he was going to do. 
Very reasonable and knowledgeable, I am very happy with the work. I plan on working with Rust and Sawdust again in the future, would highly recommend.
Basement Remodeling Cost In Weston, WI
Our basement remodeling cost in Weston, WI, starts at a competitive $48,000. This would be a comprehensive transformation, revamping everything from the ceiling to the floor.
For those seeking an elevated experience, we provide the option to customize your bar with a luxurious countertop, accent walls, and exquisite finishes of your choosing for a remodeling package that can reach close to $80k.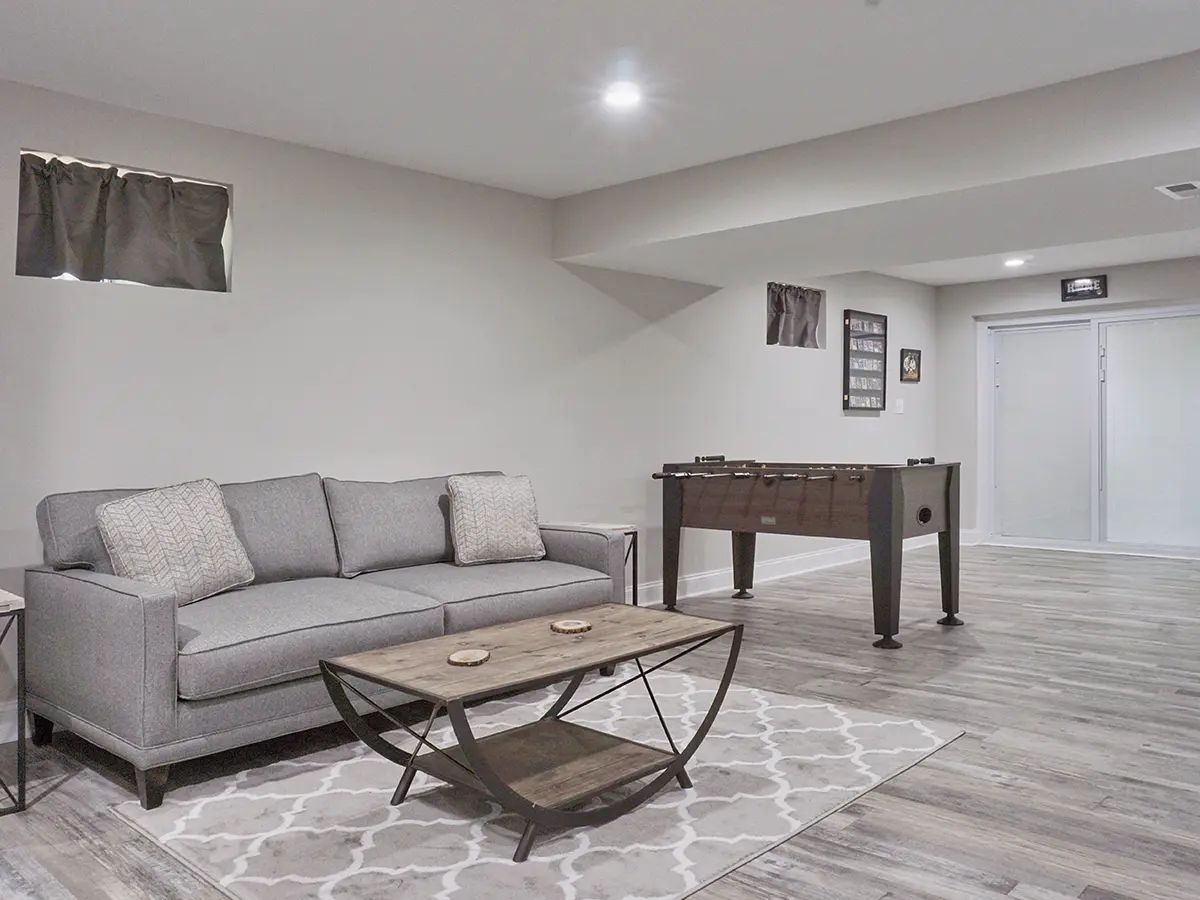 720 Sq. Ft. Basement Remodel In Mosinee​
This basement remodeling project included:
The basement was quoted at $53,563 where the drywall installation, painting, and flooring alone were $23k.
| Factor | Average cost |
| --- | --- |
| Waterproofing | $1,900 - $6,300 |
| HVAC | $5,000 - $11,000 |
| Electrical | $2,000 - $13,500 |
| Plumbing | $2,500 - $20,000 |
| Framing | $1,100 - $4,500 |
| Insulation | $600 - $4,600 |
| Drywall | $750 - $8,300 |
| Painting | $800 - $2,500 |
| Ceiling | $1,000 - $6,000 |
| Flooring | $1,000 - $36,000 |
| Egress Window | $2,000 - $5,000 |
| Staircase | $xxx - $xxx |
| Door | $225 - $1,900 |
| Lighting | $100 - $650 |
* Keep in mind that the prices you see above are mere estimates, and they don't include the installation fees! To get an accurate pricing estimate, request your quote today, and we'll circle back within a business day!
We're Taking Care Of Everything For You!
When it comes to designing and remodeling your new basement, two common concerns often arise. Rest assured, we are here to address these issues and provide you with the peace of mind needed to confidently embark on this project.
We have experience working on basement projects ranging from $20k to $70k. In other words, we offer solutions to fit every budget, ensuring that the quality of your basement remodels is never compromised. Additionally, we provide a variety of financing options to help you get started on your project with ease!
We take great pride in consistently completing our projects within the agreed timeframe. Our commitment to staying on schedule ensures that you can enjoy your new basement as promised. Furthermore, adhering to our timeline allows us to efficiently progress with our other projects without causing delays for our valued clients.
Basement Remodeling Made Easy, Fast, And Predictable
During the remodeling process, your comfort is our top priority. We will carefully consider your needs and preferences to deliver a high-quality product that enriches your daily life!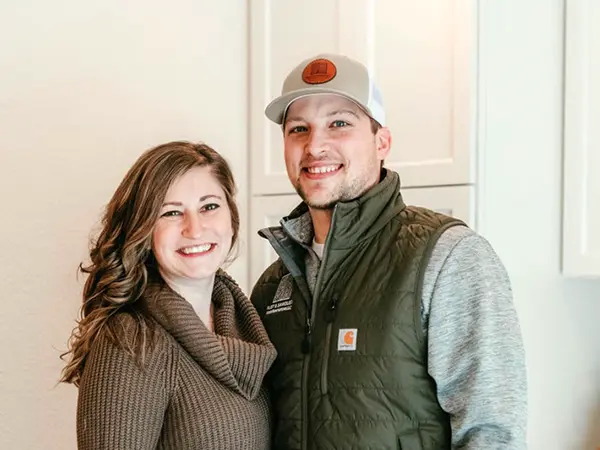 Get in touch with us, tell us your vision, and let's find the right purpose for your new basement.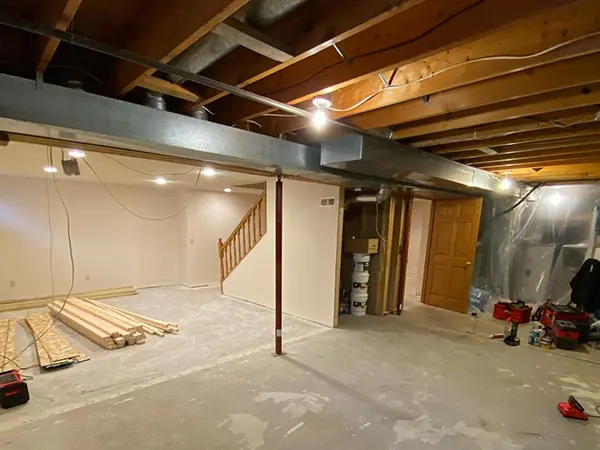 As soon as you've decided on the materials, we get to work according to our schedule.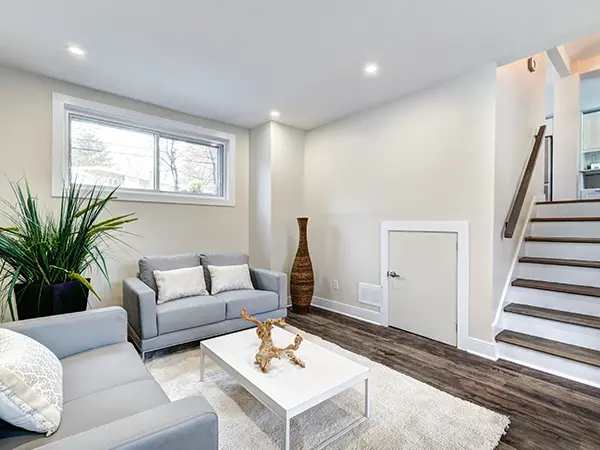 Take advantage of all that extra space and enjoy your home more than ever before!
Take Your Basement To The Next Level Of Functionality With A High-End Remodel!
You've put off remodeling your basement in Weston for long enough! If you desire the added functionality, return on investment, and other benefits that come with a remodeled basement, now is the perfect opportunity to follow through with this project. Don't miss out on this chance to finally make it happen!
Remodeling Journey makes it incredibly easy for you to make this investment and stays with you throughout the project to ensure you're completely satisfied with our work. If you're ready, give us a ring at (715) 551-7328 or request a free quote from the button below!
Justin exceeded my expectations. Our shoe rack and window seat with storage turned out beautiful and the prices were very reasonable! 
Thanks Justin and Adria! I will keep you in mind for future projects. I posted before and after photos on their Facebook page.
They helped us visualize our dream rooms and bring them to life! Professional and super personable! Highly recommended!
Other services you might be interested in...
Weston, WI, located in Marathon County, is a vibrant community with a host of landmarks befitting its rich history and energetic lifestyle. A stroll through the village unveils landmarks such as the Yellow Banks Park, a stunning natural reserve gracing the Wisconsin River with pristine trails, spectacular wildlife, and captivating river views. For history lovers, the historic Fromm Brothers Fur and Ginseng Farm is a must-see, significant for its role in the fox and ginseng industries at the turn of the 20th century.
The village is also home to the Nine Mile Recreation Area, a year-round hub for outdoor activities, from cross-country skiing in winter to mountain biking in summer. Each landmark contributes to Weston's unique blend of natural beauty, historical significance, and vibrant community culture.