You've decided to update your shower, and now you're stuck with choosing between a shower insert and a tiled shower. 
 We're here to help weigh the pros and cons so you can make the best decision for your home!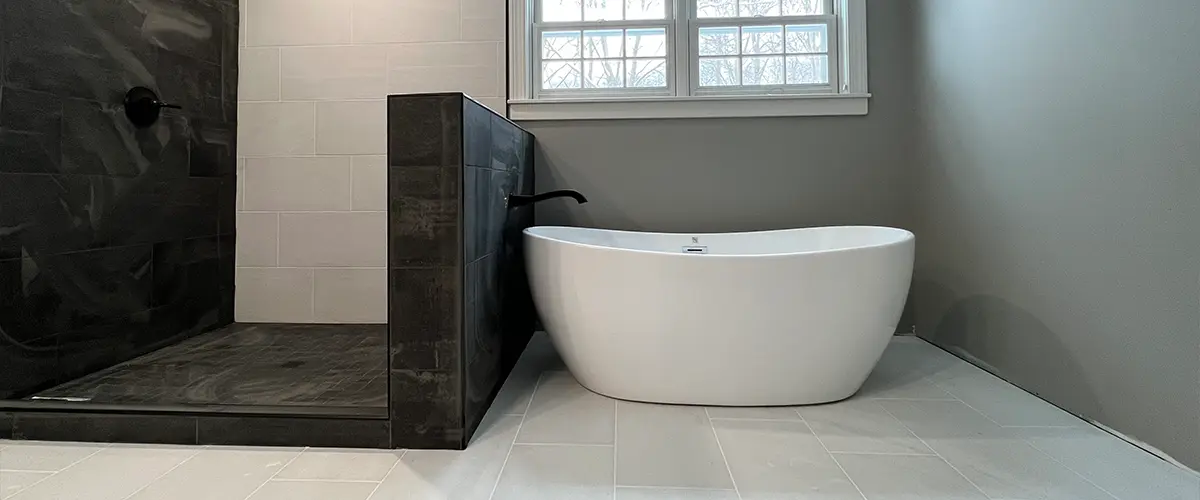 A shower insert, or a prefabricated shower is usually made of fiberglass or acrylic, and comes in one or several pieces. 
Keep in mind: If your shower is going to be a one piece unit, make sure it is going to fit through your doors to get into your bathroom. However, most kits will include a shower pan (base of the shower) and one or two wall panels, so you should be good. 
The wall panels also include things like shelves and soap dishes that are molded directly into them, and have plenty of color options. 
A multi-piece kit allows for easier passage through doorways, and are more popular because of that reason.
Prefabricated showers are generally easier to install and therefore are a good choice for DIYers, but can also be installed by professionals. Your big box stores will have plenty of these options, but we often recommend with going to a professional who has a supplier. 
When you do this, you can get good advice, ensure your shower will better fit your space, and get something that is of better quality. 
Having a leak or some mold is the last thing you want to be messing around with when it comes to your biggest investment; your home.
Wall kits are a great option if you already have a bathtub that is in great condition, or simply want to have a tub. Wall kits surround the walls above your tub to protect your walls from splashing and ultimately paint peeling or worse, mold. 
These wall kits can be easily installed to complete a shower enclosure with your existing, or new tub.
Although prefabricated insert showers are a more cost effective alternative to tile, they have some considerable downfalls. 
Either option (prefabricated showers, or wall kits) are a cost effective way to finish your bathroom shower. 
The kits range from a few hundred dollars to a few thousand. We recommend spending as much as your budget allows. If you opt for professional installation, the installation is also going to be much more cheap than a fully tiled shower as it requires much less labor and materials. 
For the removal of the old shower, new materials, and installation, expect to pay at least $3,000 on the low end, and upwards of $9,000 for a high-quality service with premium materials and installation. 
If you are changing the size or location of the shower and adding some higher end shower fixtures, that price can go even higher.
A tiled shower is exactly that – a shower built with tile.
This type of shower can be built to fit just about any space, and has endless possibilities with color and style choices. 
The framing for a shower will dictate the number of soap dishes or box inserts call "niches." This provides a much better space for storing or hiding that bar of soap, shampoo and conditioner bottles, and all other shower items. 
Tiled showers are best left to the professionals as they can be more of a leak risk if not installed properly.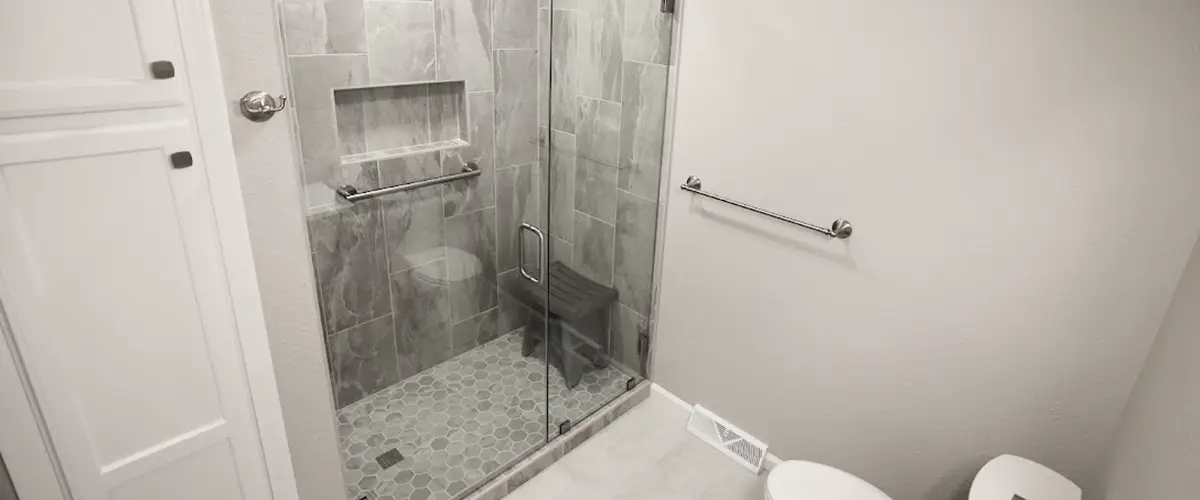 The Cost Of A Tiled Shower
A tiled shower has almost endless options and opportunities, and can therefore vary greatly in cost. 
From the size of the shower, the location of your fixtures (shower head, valves…), the tile you pick, the pattern you decide to have your tile installed, to the way you decide to close off or surround your shower; the options are almost endless. 
Working with a professional bathroom designer or shower installer can help you choose what's best for your particular needs and budget with ease. 
The cost of a tiled walk-in shower would be roughly $9,000 for a low end shower, and up to $30,000 for a high end shower with a glass enclosure and upscale water fixtures from brands like Kohler. 
The Cons Of Having A tiled Shower
Tiled showers can be a pain to clean depending on the color and sheen of the tile you ultimately choose. 
If you have a glass enclosure, and hard water, expect to clean it often to keep it looking pristine. Some people use a squeegee to clean the water off of the glass after each use for a quick clean to keep their shower looking great! 
Without a shadow of doubt, getting a walk-in shower for your bathroom is one of the best investments you can make. These are highly-efficient, much easier to maintain than tubs, and are sure to remain timeless.
If you want a professionally installed tiled shower so that you won't have to worry about leaks or improper installation, we've got you covered!
If you're ready to get this upgrade or want to find out more about what's it going to cost you, request your free quote, and you'll have it within a working day, or call us directly at (715) 551-7328 and let's talk!