Remodeling an outdated kitchen can be a daunting task. But with the right tools and resources, creating a stunning modern kitchen space is no longer something that only professional interior designers can do.
This article will guide you through the world of modern kitchen ideas to help jumpstart your own home remodeling project. From considering strategic lighting designs to finding inspiration from trendy kitchen countertop materials – discover inspiring solutions that will turn any ordinary kitchen into something extraordinary!
Get ready for a whole new world of inspiring possibilities in kitchens!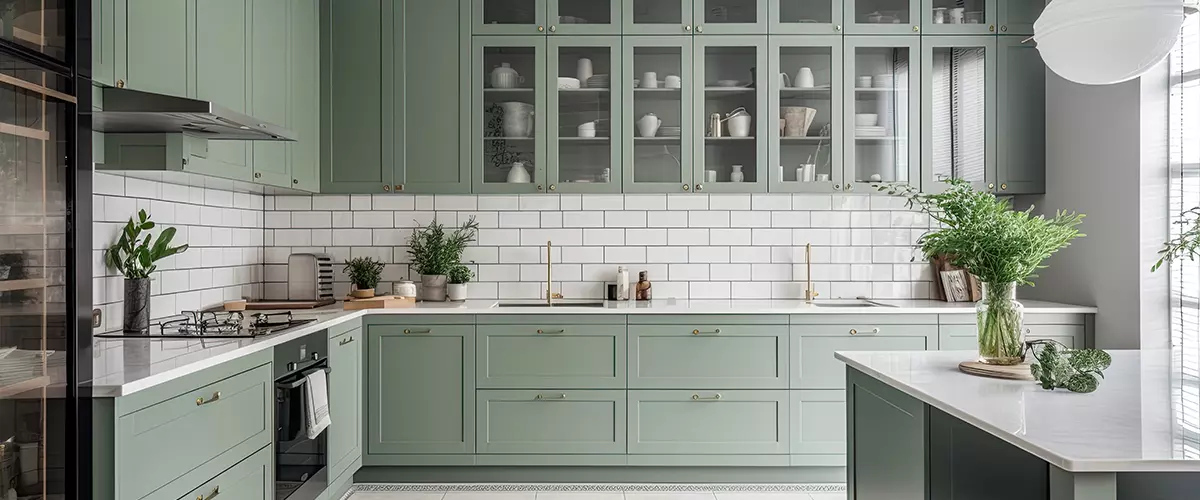 Inspiring Kitchen Island Ideas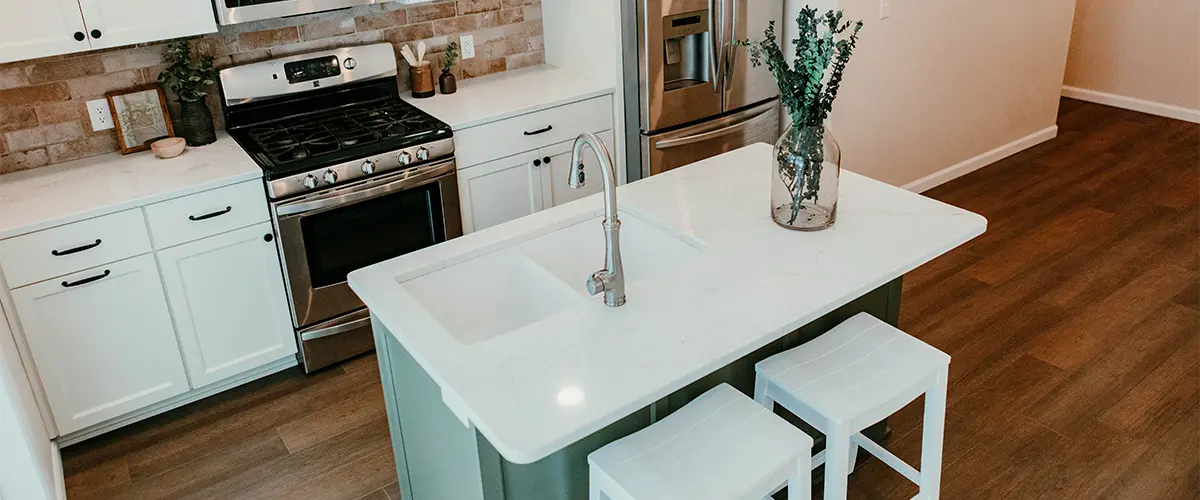 Waterfall islands are a popular feature in modern kitchen design, offering homeowners the perfect combination of style and functionality. This distinctive piece of furniture adds a luxurious touch to any cooking space while providing useful storage solutions.
The unique shape draws the eye, creating an inviting focal point that can be complemented with vibrant colors, bold textures, statement lighting fixtures, or natural materials for added visual interest.
Design expertise is crucial when constructing waterfall islands as size, installation, and electrical outlet placement all have to be considered for it to work properly and give off its desired effect.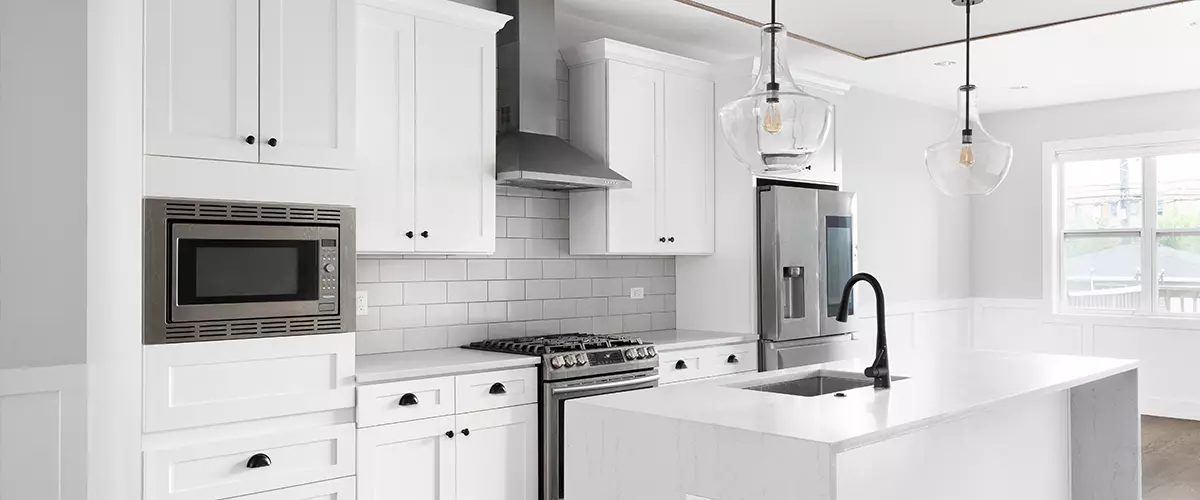 Utilizing marble and metal in kitchen design has become increasingly popular with homeowners who want to add elegance and sophistication to their space. Architects and designers are utilizing this trend to create aesthetically pleasing kitchen islands, as the combination of materials creates a luxurious look.
Marble is available in various colors to pair with different types of metal hardware or fixtures for a truly unique style statement. Not only does the combination of marble and metals bring visual appeal but it also offers an incredibly durable kitchen top that can withstand many years of use without needing repair or replacement.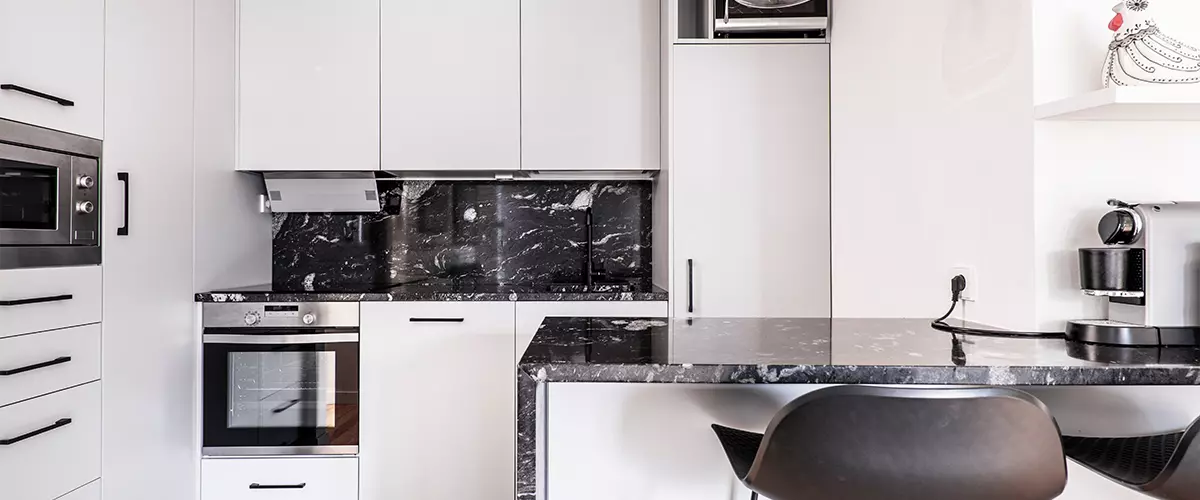 Mirrored surfaces can be a great way to add visual interest to any kitchen remodeling project. Not only do they reflect light, making the space appear larger and more spacious, but they also enhance the overall design by creating a touch of glamour and sophistication.
Mirrored surfaces are also incredibly versatile and can be adapted to fit almost any size or shape—making them an ideal choice for styling a kitchen island. Not only will mirrored surfaces bring some much-needed warmth to an all-white kitchen, but it will also help draw attention toward the center of the room to create greater focus in this area.
Homeowners have plenty of options when it comes to combining different materials with their mirrored surface – from mixing marble or metal countertops that provide contrast against its reflective surface, or maintaining a classic clean look with straight lines and minimal ornamentation for those who prefer a modern twist on traditional décor.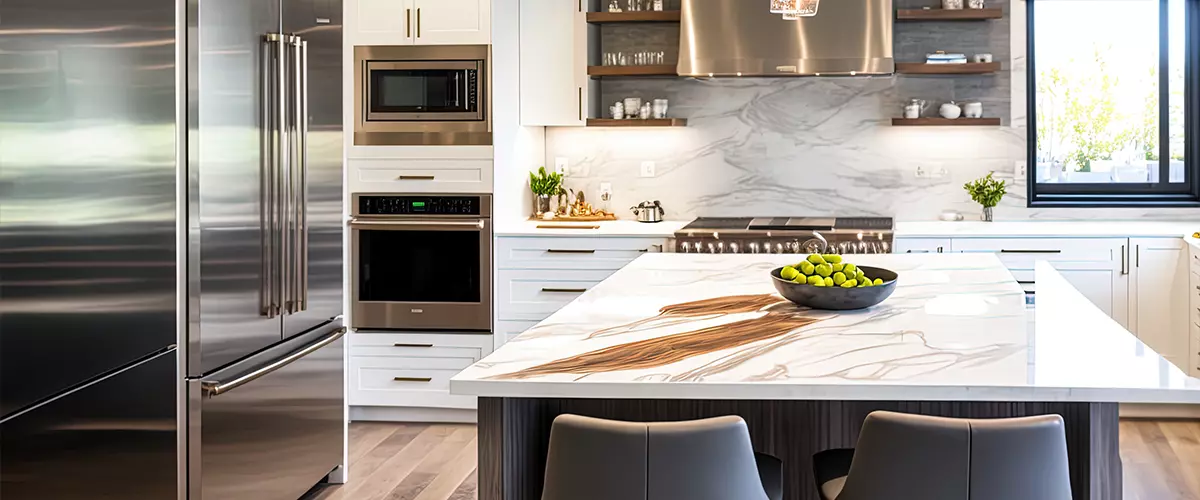 Many homeowners are looking to incorporate classic designs into their kitchens that provide a relaxed and comfortable atmosphere. One great way to do this is by bringing in an element of country charm.
This style is characterized by its use of rustic materials, farmhouse-inspired details, and vintage accents. When creating a kitchen design with country charm, it can be useful to start with the design of the kitchen island, as it will become the centerpiece of your space.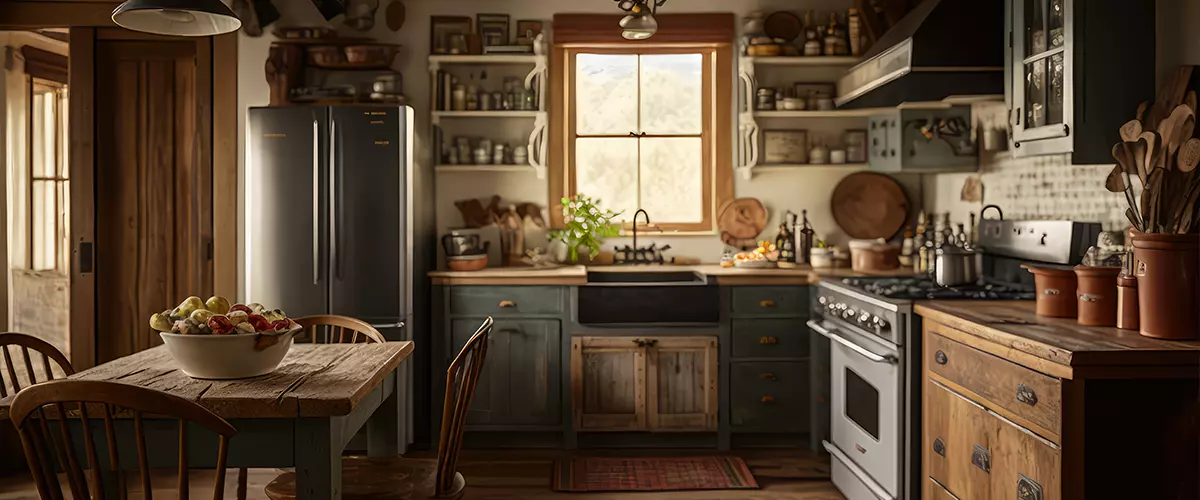 Wood is a timeless and enduring material for creating modern kitchen designs. It has the appeal of being both functional and aesthetic, making it ideal for enhancing any room's beauty with its uniquely organic texture.
Not to mention, warm woods are incredibly durable against everyday wear and tear while providing much-needed warmth through its rich tones. Modern kitchen designs often incorporate wood elements such as wooden bar stools, upper cabinetry in natural wood tones, or butcher block countertops.
Islands provide visual interest by acting as a focal point in your space but also offer valuable cooking and dining areas within larger kitchens—by integrating warm wood elements in this way, you can evoke a contemporary style while adding an extra layer of function to your design without sacrificing anything on aesthetics.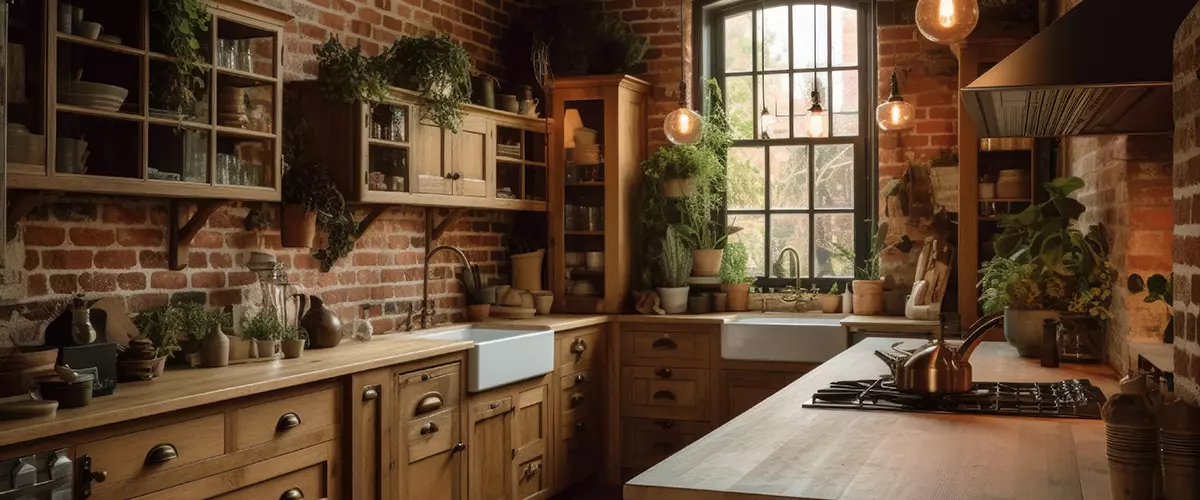 Minimalist design is all about reducing the clutter and noise in a space to create an airy atmosphere of serenity. This approach gives priority to function over form while still producing stunning designs.
Minimalist design principles are particularly relevant in modern kitchen remodels, as they help create a sense of balance without overwhelming the room with superfluous details.
Another benefit is that it allows for easy customization: you can choose simple but unique materials like marble countertops, or bright cabinetry with streamlined shapes and finishes that will stand out against a white background or subtle tones on walls and floors.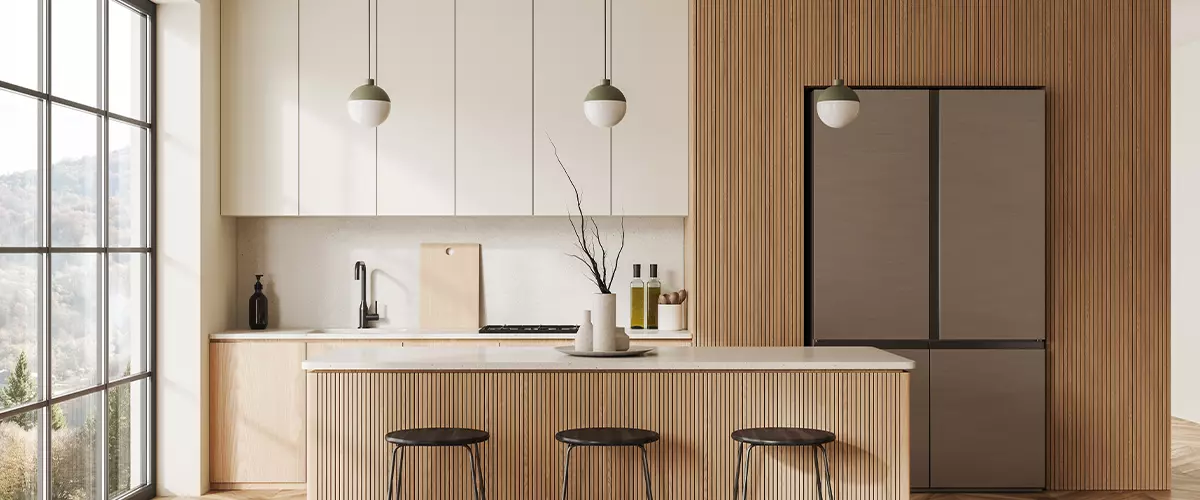 Butcher block countertops are an increasingly popular choice for modern kitchens, offering functionality and style. These hardwood surfaces add warmth to kitchen designs with their inviting natural look, and they come in various finishes that help create unique looks in any space.
Butcher block countertops have been particularly popular in midcentury kitchens, as well as those looking to put a modern twist on classic styles. Not only do butcher block countertops offer visual interest, but they're incredibly durable and can provide much-needed warmth to chilly designs.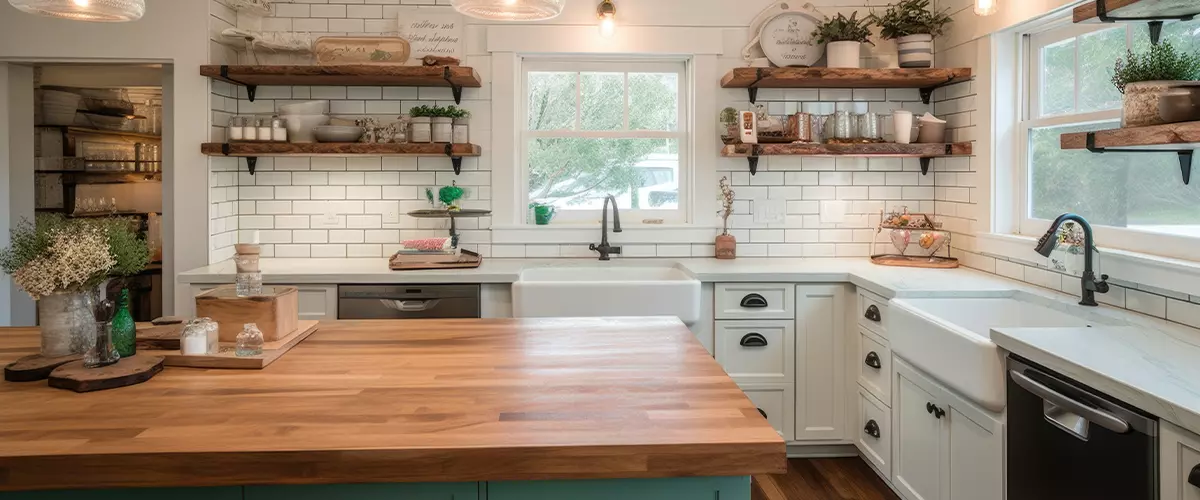 Concrete kitchen islands are popular for many modern home designs due to their unique aesthetic appeal and texture. Concrete provides an incredibly durable material that is built to last, yet can look beautiful in any design style.
The range of shapes, colors, and styles make concrete the ideal material for creating stylish touches in any kitchen space. It's also great for adding visual interest when combined with other materials like wood or metal elements.
Whether building from scratch or remodeling an existing space, there are plenty of ideas available to help maximize the potential of concrete as an island material. Additionally, by incorporating contrasting colors and finishes, you can create a modern twist on traditional looks within your kitchen design – choosing bright shades to create pops of color or quieter tones such as greys to add warmth more subtly.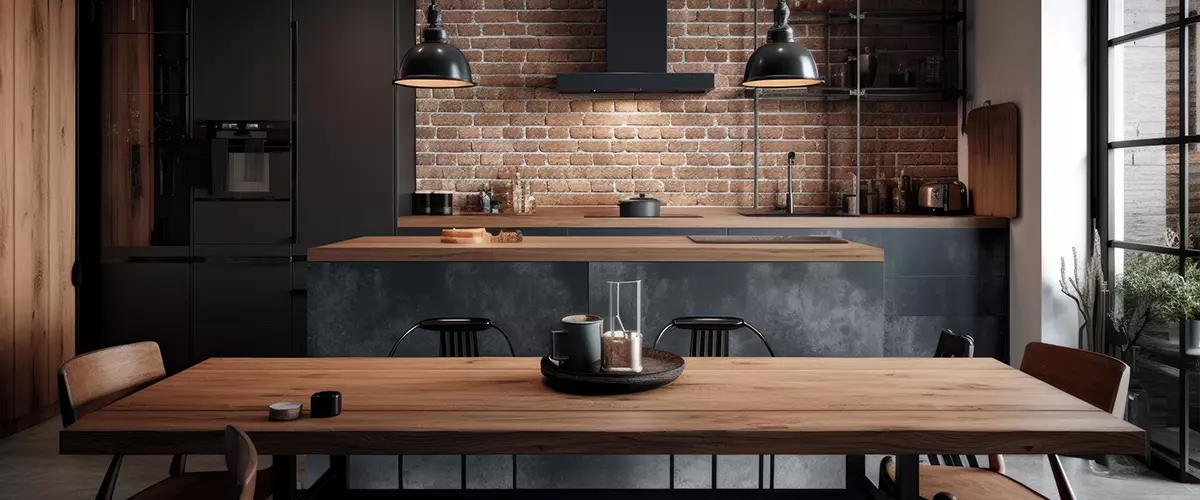 Incorporating Organic Elements
Homeowners can add a touch of nature to their modern kitchen design by incorporating organic elements. Natural materials such as wood and stone help to create an inviting, warm atmosphere while also making the space feel alive and vibrant.
Plants, succulents, and greenery not only offer an eye-catching feature but can be used as a room divider or simply provide visual interest. To keep the look unified, homeowners should pick colors that complement each other throughout all of their chosen materials for both furniture and accessories.
For example, wooden bar stools in a warm tone will coordinate well with white cabinets paired with white countertops or marble island wall ovens mixed in upper cabinetry finished in dark wood tones.
Incorporating green plants gives any kitchen interior designer an opportunity to experiment with angles that may otherwise look sparse; natural designs such as curved countertops, waves on backsplash tiles, or grooved lines on outer walls create much-needed warmth into the design scheme while adding depth to the space.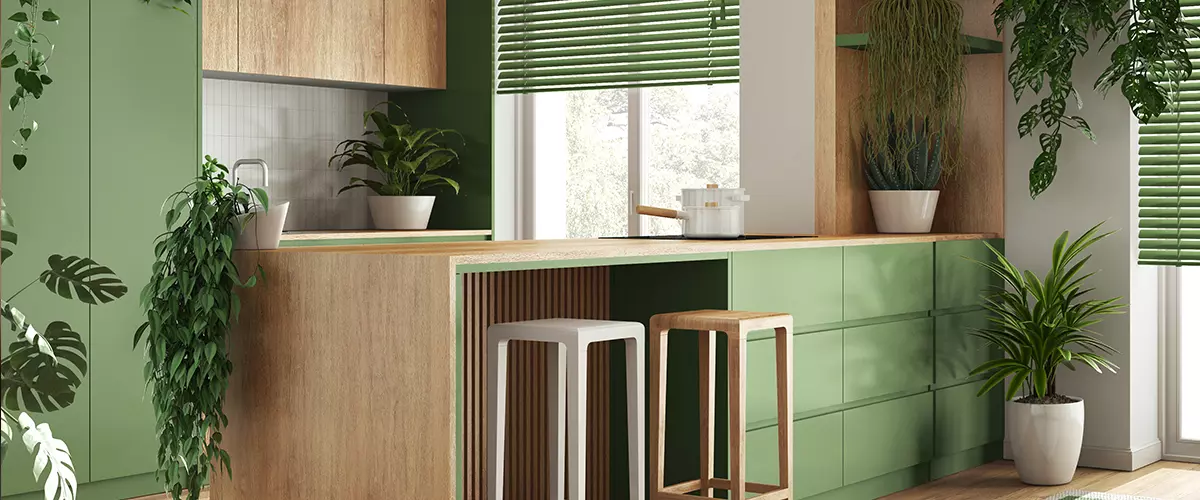 Adding a bold, modern twist to your kitchen island can be as easy as combining the colors red and blue. This color combination adds an impactful pop of bright color that will elevate any kitchen's design and bring life to the room.
The two shades work in perfect harmony for creating dramatic statements or subtle tweaks that will allow you to customize the look of your island depending on your preferences.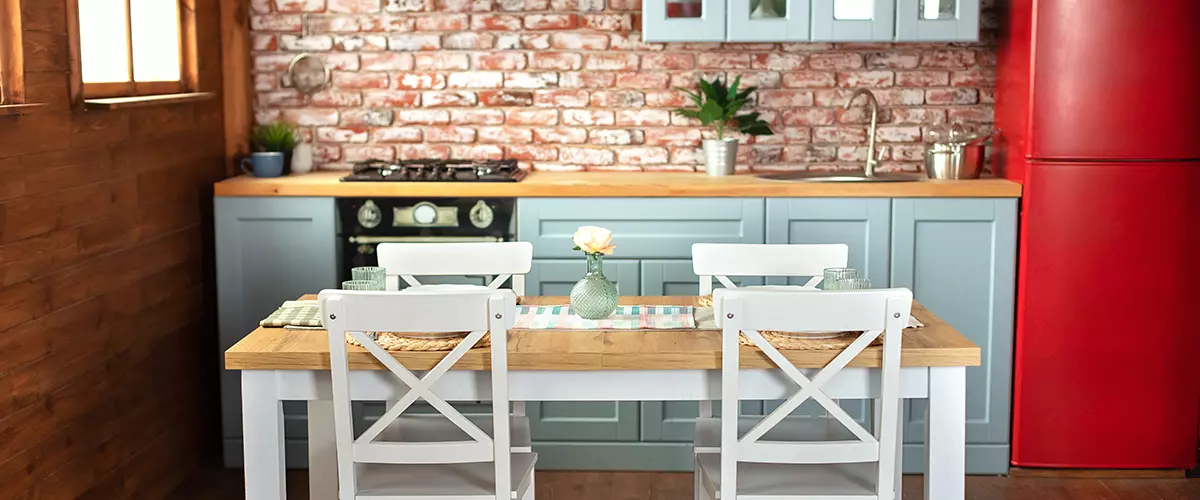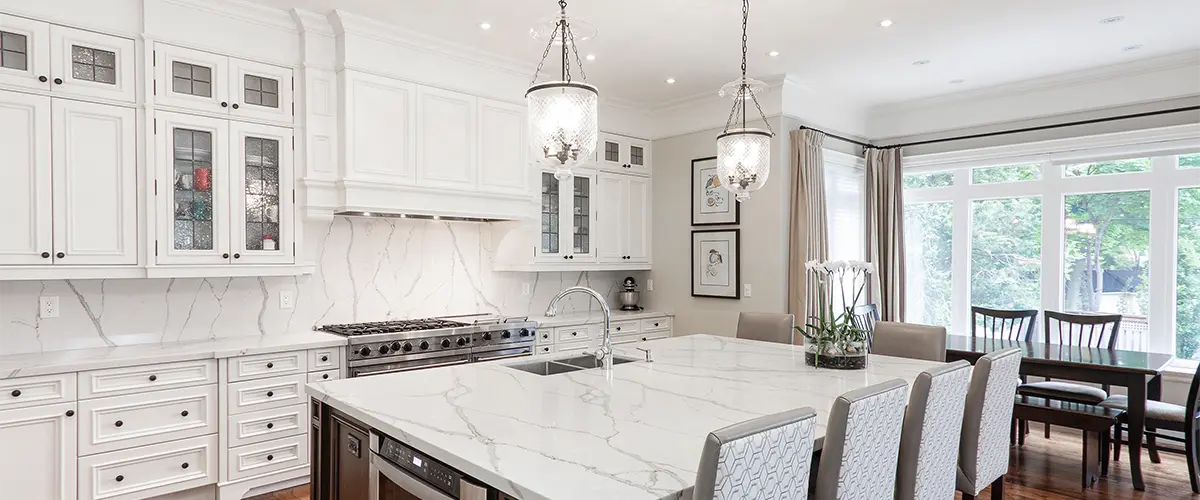 Mixing and matching different types of cabinet hardware has become a key trend in kitchen design for 2023, providing much-needed visual interest to any kitchen space. Incorporating different textures throughout your cabinetry can create statement pieces that inspire creativity.
From metallic pulls to rustic wooden knobs, you can truly make the space your own by introducing unique pieces that blend seamlessly with the overall design. The use of different materials such as stainless steel, wood, or even marble will add a modern twist to classic kitchens while also adding texture and function to often neglected areas.
This layering of materials, in combination with contrasting colors, creates bold visual appeal while maintaining unity across all elements in the room. When done right, this mix-and-match concept brings together warmth from natural wood tones alongside sleek stainless steel finishes – creating an inviting yet highly functional modern-day kitchen designed for ultimate efficiency.
One of the best ways to inject personality, vibrancy, and energy into any kitchen is by introducing color. Whether you opt for bold cabinet colors, colorful backsplashes, or even small accents like vibrant storage containers or decorations — adding a touch of color can make all the difference.
Popular trends include incorporating black islands to add depth and contrast against white tones, using bright natural elements such as plants to create visual interest in an otherwise monochromatic design —or showcasing an eye-catching splashback with colored tiles creating a unique look that's sure to impress anyone who walks into your kitchen.
Use Lighting to Highlight Cabinets
Using lighting in the kitchen is an important aspect of creating an attractive and functional space. Creative, stylish lighting fixtures can be used to highlight and showcase cabinets with a beautiful effect.
Task lighting techniques, such as using LED strips or system-easily mounted task lights next to upper cabinetry, can help illuminate items stored inside while also creating a modern look.
Floor-level accent lightings which are installed below the cabinet's shelves, create pleasing shadows across items displayed on open shelves while adding depth and warmth to the design.
Recessed downlighting from stainless steel pendants also brings contrast along with a contemporary feel to areas above the countertops, showcasing cabinets in a new light without taking up any extra floor space.
Camouflage cooker hoods are an excellent creative cabinet idea for modern kitchen remodeling projects. These discreet but stylish designs blend seamlessly into the kitchen decor, making it appear as if all you have is cabinets rather than a bulky appliance interrupting the visual flow — and without sacrificing air quality control!
Camo cooker hoods effectively remove cooking odors and smoke, creating safe and clean indoor air by utilizing powerful fans that come in various wattages, taking out fumes before it becomes too concentrated inside your home.
The lower profile means that when installed correctly, they won't impede kitchen activities or disrupt the overall aesthetic, plus they're available in various colors to enhance any contemporary design scheme.
A camouflage cooker hood is a great way to add much-needed ventilation while efficiently using space in your modern ceramic-tiled dream kitchen.
Optimize Space with Galley Layout
The galley kitchen layout is a great way to maximize storage and counter space in a small area. This layout runs two long lines of cabinets and appliances along opposite walls, creating a narrow walkway between them.
It's an incredibly efficient design that can be adapted to fit almost any space or budget. The most basic features are upper cabinetry and wall ovens for cooking, but there are also several opportunities to customize the look with built-in storage solutions like drawers, shelves, or countertops.
Achieving symmetry in the kitchen is one of the key components when it comes to modern kitchen ideas. Balance and harmony can be created by aligning cabinets, appliances, and accessories while designing your dream kitchen.
Symmetrical elements such as lining up upper cabinetry, wall ovens, matching bar stools or having two different color pendant lights hanging on each side above a marble island will instantly create an attractive visual experience that completes any modern look.
Utilize Natural Light Sources
Natural light is a great way to brighten up any interior space, and it's especially important in the kitchen. Natural lighting can reduce electricity bills, provide much-needed vitamin D and boost your mood while you cook.
Incorporating natural light into your kitchen design requires proper thought and consideration. Think about where additional windows could be added or installed to allow for more daylight.
Incorporate Floor-to-Ceiling Units
Floor-to-ceiling units can provide a modern, updated look to any kitchen while offering practical functionality. Utilizing vertical space for storage maximizes efficiency and allows you to keep your kitchen organized with efficient use of available space.
With the right design, floor-to-ceiling units can be an attractive feature that stands out in the room. Selecting creative cabinet designs, incorporating different materials such as wood or copper accents, playing with colors like white and silver or adding statement lighting are all great ways to use floor-to-ceiling units to create a stylish visual effect.
Add Windows Above Cabinets
Adding windows above kitchen cabinets in a remodeling project is an ideal option, as the natural light and fresh air they bring in can further create a stunning visual contrast.
Additionally, having windows running along the top of the cupboard gives off the illusion of space since they open up that part of the room and offer an extended view outside, often enhancing any decorative items placed under them or calming views when looking out to nature.
Open shelving can provide an impactful and inspiring kitchen design. Open shelves draw focus in the kitchen, especially when paired with other striking elements like stone range hoods or stainless steel appliances.
For easy access to dishes, open shelving is a great choice for kitchens – it won't just add storage but also put unique family heirlooms and carefully curated objects on display.
Preserve Existing Features
When it comes to planning for a kitchen remodel, there's nothing like preserving any unique features that the existing space already has to offer. Not only can these special elements become an eye-catching feature in your modern kitchen design, but they can also add character and value to the room.
If you're considering preserving pre-existing features in your kitchen remodeling project, why not incorporate creative cabinet ideas? For example, if you have an old wooden ceiling beam or wrought iron chandelier, you could choose cabinets with colors or textures that will enhance their appearance while still giving off a fresh modern vibe.
Include Statement Lighting
Statement lighting is a great way to add instant style and personality to your kitchen. From unique pendant lights that draw the eye upwards, dramatic chandeliers in high ceilings, or quirky fixtures like loft ladders and antique domes – statement lighting offers homeowners an opportunity to make a bold design statement.
Pendant lights of all shapes and sizes can be used over islands for task-lighting purposes, while traditional lanterns with exposed bulbs create an industrial touch above counters.
Delicate crystal chandeliers are perfect for larger spaces, or cutting-edge LED strips illuminate modern kitchens beautifully. When choosing statement lighting, consider your overall design aesthetic, as the arrangement needs to work harmoniously within its environment – particularly if you're going for contrast, such as incorporating wood tones and sleek metals together.
Invest in Marble Countertops
Marble countertops are a timeless and elegant choice for modern kitchen remodels, creating luxurious and sophisticated looks. While traditional in their appeal, they can also be versatile and incorporate with other design features easily; marble is durable enough to withstand the rigors of daily life yet beautiful enough to create visual interest.
Not only that, but this type of surface is incredibly durable; marble won't warp or stain as other surfaces may over time. Contrasting with wall ovens or including warm wood tones on the upper cabinetry creates an inviting atmosphere while adding much-needed warmth to any space.
Consider Unique Flooring Treatments
No modern kitchen design is complete without paying special attention to the floor. Unique flooring treatments such as combining materials or patterns can give your kitchen a contemporary twist and create visual interest.
Utilizing natural stone, granite, tiles, hardwood floors, laminate wood, and cork floors are all options that you can experiment with. For example, mixing light colored tile canvas with dark wooden base looks sophisticated in open-plan designs.
Choose Cohesive Color Palette
When remodeling your kitchen, having the right color palette is essential for creating a harmonious and visually appealing space. A cohesive color palette helps to bring together different elements of the design, such as cabinetry styles, surface materials, ideal layouts, lighting fixtures, and more.
Additionally, utilizing colors that complement each other will help create an atmosphere in which one can be inspired to cook or spend time with family.
The use of color psychology in home improvement decisions should also not be overlooked when planning your remodel project. Different hues can evoke feelings such as calmness or energy, depending on how you mix them.
Incorporate Natural Materials
Adding natural materials into a modern kitchen design can bring warmth and visual interest to the room. Incorporating materials like hardwood and stone creates an incredibly durable, yet stylish aesthetic.
Wood tones are perfect for bringing much-needed warmth to an all-white kitchen, while dark wood creates sophistication and visual intrigue. Stone is also popular in contemporary kitchens, contributing drama and weight with its distinct texture and beauty.
Textured marble or limestone countertops will add luxury without compromising on modernity as well as giving off that added feel of opulence when combined with sleek cabinets in matching colors or finishes.
Design a Functional Breakfast Bar
A breakfast bar provides a convenient and stylish way to maximize your kitchen's space while adding lasting visual interest. By opting for a functional breakfast bar, you can combine the best of form with function – from additional seating for guests to a multi-functional workspace that is great for meals or speedy snack breaks.
Design a Functional Breakfast Bar
A breakfast bar provides a convenient and stylish way to maximize your kitchen's space while adding lasting visual interest. By opting for a functional breakfast bar, you can combine the best of form with function – from additional seating for guests to a multi-functional workspace that is great for meals or speedy snack breaks.
Optimize Appliance Placement
Making the most of a kitchen's available space is an important part of any remodeling project. Planning and optimizing appliance placement can ensure that countertops, cabinets, and other components are placed in locations best suited for efficient use.
When deciding where to place cabinetry and appliances, considering corners is essential; utilizing those awkward nooks can help maximize efficiency while preserving visual harmony within the kitchen space.
A kitchen remodel can feel completely transformed with the addition of DIY accessories. These pieces can be inexpensive and easy to source or create, adding that personal touch to your space. Not only can DIY projects bring unique style, but they can also help make a small kitchen feel larger, creating an atmosphere of endless possibilities. Some of the best DIY accessories to consider for any kitchen remodel are:
Explore Curved Countertops
Curved countertops are a popular choice for modern kitchen designs, offering a unique and creative look that can draw attention to the countertop area. Curved countertops provide fluidity and movement to the design, and add visual interest to any kitchen layout.
They're incredibly versatile; curved countertops are available in a range of materials, including natural stone, solid surface, or laminate, and work with both large and small kitchen spaces.
Not only visually appealing but functional as well, they offer more workspace than traditional straight edges while creating much-needed warmth and texture in an all-white or sleek modern kitchen.
Curved countertops also allow for seamless transitions from one zone (kitchen) to another (dining room), making them ideal for homeowners looking to create flow throughout their home's interior space.
Choose a Peninsula Layout
Choosing a peninsula layout for your next modern kitchen remodel is an excellent idea. This type of design provides both style and efficiency to a room, as it serves the same purpose as a traditional island – without taking up additional space.
A peninsula allows different parts of the kitchen to be divided by utilizing its elongated shape, which creates two distinct zones – one side to cook on while the area on other side can easily accommodate seating for friends and family.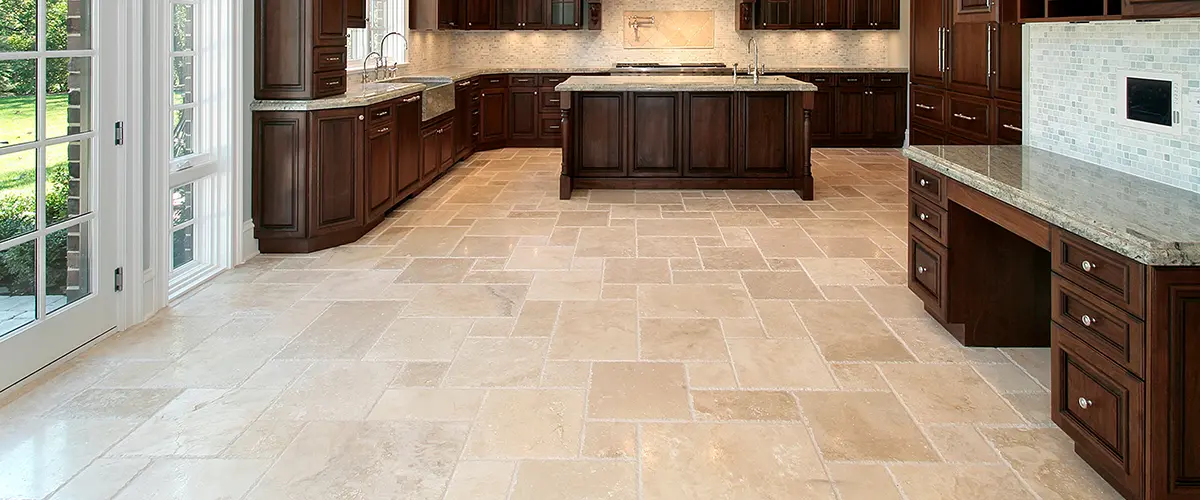 Modern Kitchen Ideas FAQs
Remodeling Journey is here to cover all your kitchen remodeling needs. Whether you know exactly what you want your kitchen to look like or want curated suggestions from a pro team of contractors, call us at (715) 551-7328 to see why we are Wausau's beloved remodeling team.