A common question we get asked: Should I drywall my basement ceiling, or not?
Some people have concerns of water leaks from above, or that desire to have access to something like plumbing or electrical in the ceiling. But drywall ceiling, especially in a basement, will help you finish the space and make it more aesthetically pleasing.
While quite rare, it is a viable concern, so let's discuss it.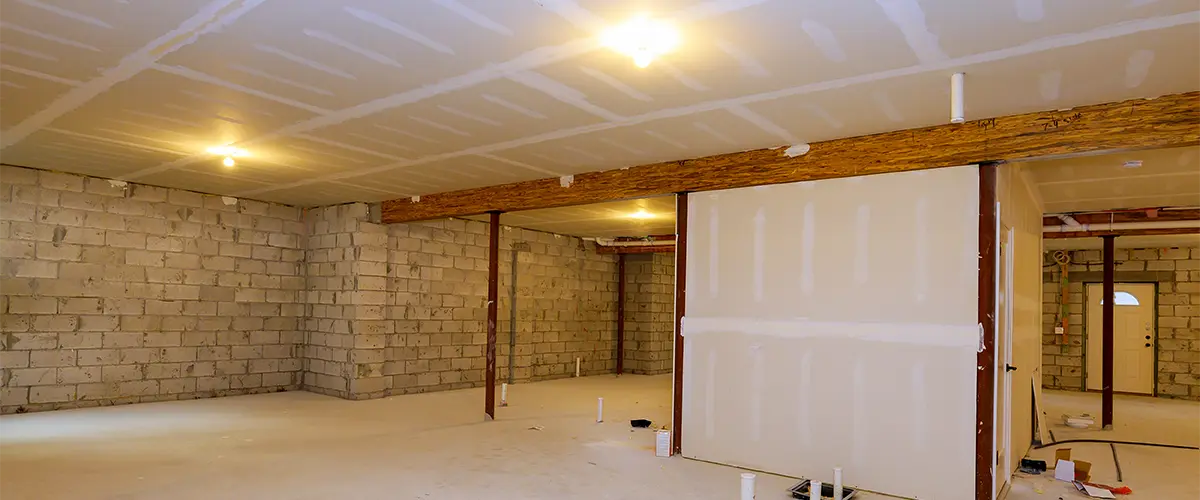 Can You leave Your Basement Ceiling as is?
Depending on your tastes and your space, you can ultimately be happy with either option. 
If you like the industrial look, you can leave the ceiling exposed and finish it with a solid paint color to cover (as much as possible) the vents/electrical/plumbing "eye sores". 
The ceiling remains accessible, so you can always get to what you need, and a water leak isn't going to leave you tearing apart the ceiling.
Why should you install drywall on the basement ceiling?
If the "industrial" look doesn't suit your preferences, the best way forward is to install drywall on it and cover it up.
If you want a finished look, the most common option is drywall, followed by a drop ceiling or a coffered ceiling. 
The worst part about these options is that they're going to leave you with a mess on your hands if you do have a leak from an upper level. Even so, drywall can be cut out and fixed pretty easily, along with a drop down ceiling where you simply remove and replace the damaged ceiling tiles. 
Coffered ceilings may require much more attention to detail and therefore higher repair costs, so if there's a leak and you need to fix it, getting a professional is essential.
According to drywallinsider.com, fiberglass mat and paperless drywall ceilings are ideal for basements because they offer moisture resistance. Besides the type of the drywall, you'll also want to consider the drywall thickness.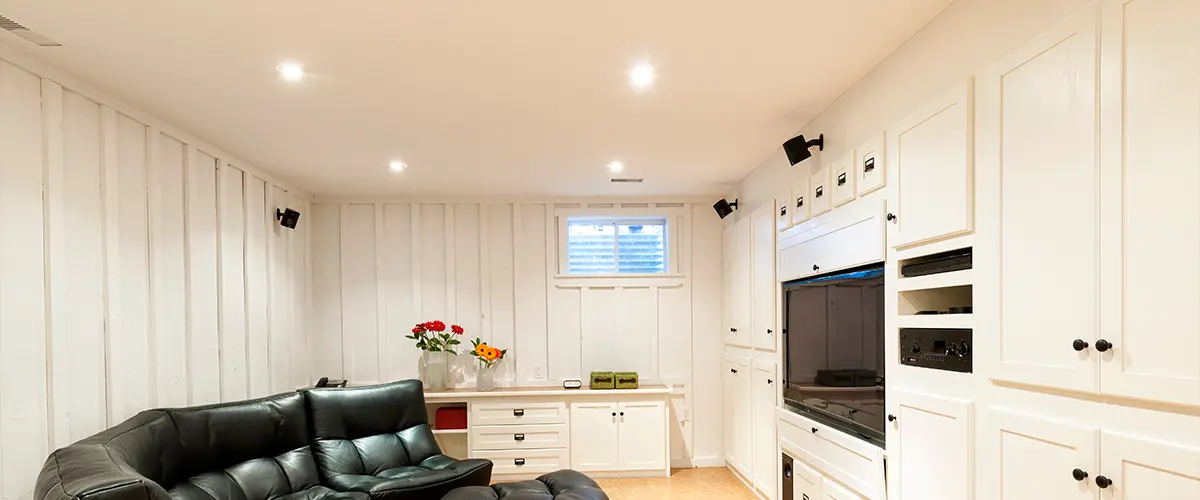 Can You Install Drywall Ceiling After The basement Is Finished?
Installing drywall ceiling in a basement can be done depending on the structure and insulation of the space. 
It is important to ensure that the room is properly insulated and ventilated since basement ceilings are often lower than most other rooms in the house, with limited air circulation. 
Additionally, it is important to make sure that any existing pipes or wiring are accounted for in the installation process. Once these steps have been taken, a drywall ceiling can be successfully installed. 
How To Install Drywall Ceiling
With the right installation and preparation, installing drywall in a basement can be done quickly and easily.
In the end, how you feel about your basement drywall ceiling is what should ultimately drive your decision.
If you want to completely finish your basement and make it a liveable place for you and your loved ones, covering the ceiling is ideal. It looks better, is safer, and doesn't even cost that much!
If you want to know more about finishing a basement ceiling and what are the best ways to do so, give us a call today at (715) 551-7328 or request a free quote and we'll help you out.