Scratches, grease, food stains, and paint chips are all signs that your kitchen cabinets have seen better days. 
And if you're ready to change the vibe of your space with a quick makeover, replacing or replacing kitchen cabinets might be your best bet. However, many people struggle with deciding between the two.
If you're in a similar situation, we're here to help you out. 
Let's discuss which is the best way forward with your kitchen cabinets, and see whether refacing or replacing the cabinets is the better choice.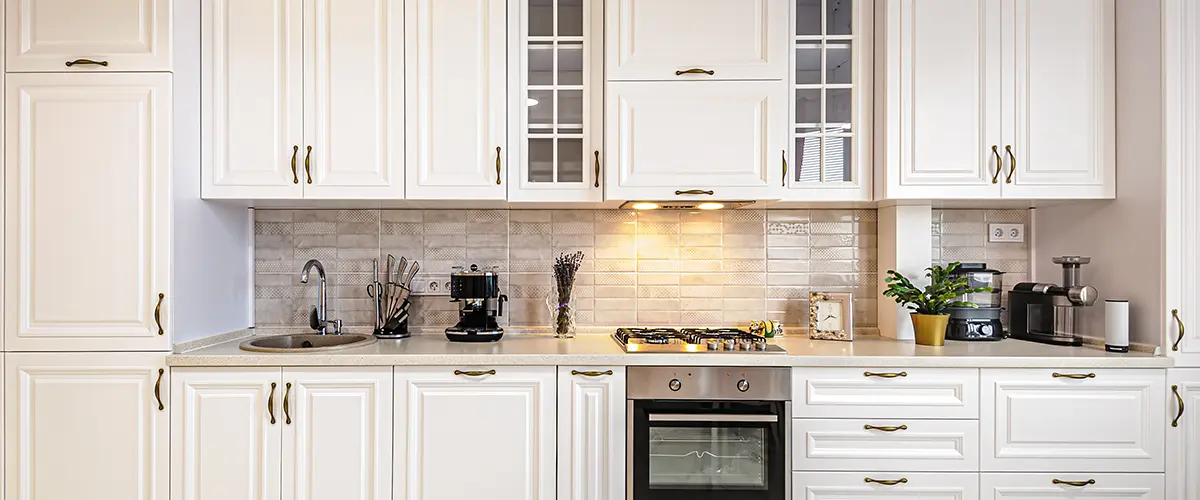 Is Refacing Kitchen Cabinets Better Than Replacing Them?
When approaching a kitchen remodel, this is a very common choice that many clients wrestle with. The answer will vary based on the starting point of your kitchen and what your vision for your final dream space entails.
Some ideas to ponder and discuss with your family prior to making this decision include:
As you mull over your cabinetry wants and needs, let's dive a bit further into what exactly a refacing kitchen cabinets entails…
The Myth Between Refinishing vs Replacing vs Refacing Kitchen Cabinets
Refacing cabinets tends to get a bad rap when really the process is simply misunderstood. Many people confuse refacing with refinishing. 
Refinishing kitchen cabinets is a different process which involves removing the existing finish, and applying a new one. 
Refacing kitchen cabinets is a more complex process than just adding a new stain which involves applying a new layer of wood.
Replacing kitchen cabinets means exactly that, getting rid of the existing cabinetry and buying new ones, be them stock, semi-custom, or fully custom.
Some people may think that that refaced cabinetry looks junky, cheap and mismatched – This is simply not true. When done correctly, the process of refacing can make your cabinets look just as gorgeous as brand new ones.
Let's dive a little deeper into how to reface kitchen cabinets and see the entire process.
Kitchen Cabinets Refacing Process - Step By Step
#1. Remove all existing doors and drawers
Either with a contractor or by yourself, start by removing the existing doors and drawers. If you want to do this alone, be extra careful to not damage the frame of the cabinet, and even more careful to not mix up the doors and cabinet hardware.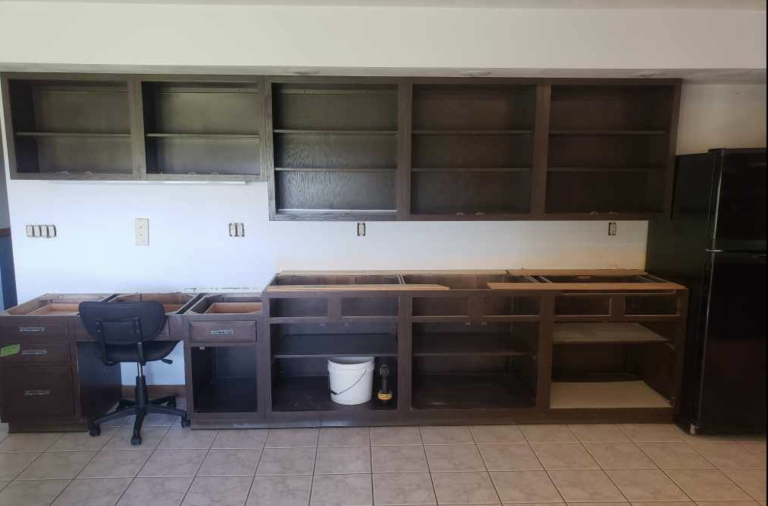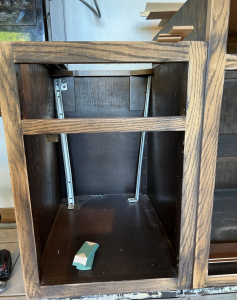 #2. Sand the outer surface of the cabinet Box
Sanding removes grease, grime and dirt. It also creates a good surface texture for the wood veneer to adhere to. Don't go too deep with the sanding and stop when the old stain/paint is out of the way. Clean the surface thoroughly and let it dry.
#3. Cut 1/8" thick wood veneer
This will be used to cover all outside surfaces that were sanded. Precision is extremely important in this step. The final pieces need to fit like a perfect puzzle to allow for a seamless transition between the edges.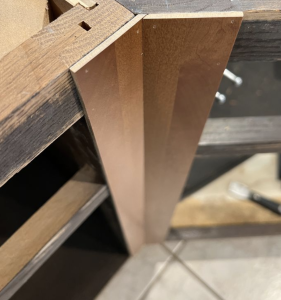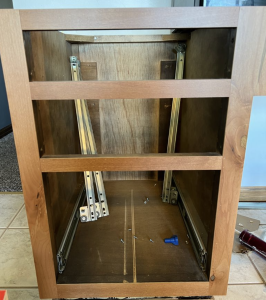 #4. Attach wood veneer to the cabinet box
The pieces are glued, pin nailed and then filled onto the cabinet face. The veneer is wrapped around the edge so nothing looks unfinished. The edge gets finished in the same stain color as the inside of the cabinet. The outer sides of the box and door get finished – including underneath. All of the seams are covered so it appears as a brand new cabinet from the outside.
#5. Attach the doors and drawers
The wood can then be stained or painted to our customer's liking. Using this method, we have the opportunity to install new doors and drawers in an updated style. Soft close features are an option that can also be added.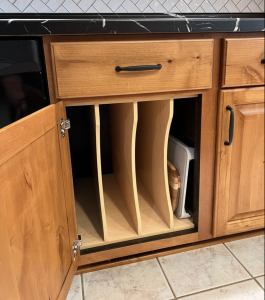 The PROS Of Refacing​ Kitchen Cabinets
The CONS Of Refacing Kitchen Cabinets
The Verdict​ For Refacing Or Replacing Kitchen Cabinets
Refacing is a great option if you don't need huge changes to their initial cabinetry layout. The refacing process lends itself well to customers on a tighter budget or timeframe. 
The ideal candidate would need their original cabinetry "boxes" to be sturdy and in good condition. Refacing can offer you quality, fresh, new-looking cabinetry for less money and time than replacing them.
Replacing is a great option if you're looking to completely rethink your kitchen with custom made, built-in cabinetry with all the "bells and whistles". If you need more storage, change the layout of the cabinetry, improve their functionality, or simple change the style of your kitchen, getting new cabinets will be the best way forward.
If you choose to replace them, KCMA recommends semi-custom cabinets for the best ROI.
Whichever you end up choosing, we believe both options will lend themselves to a beautiful kitchen remodel you will love!
If you want to learn more about your options to improve your kitchen cabinets, call us today at (715) 551-7328 or request a free quote so we can reach back to you. This is your chance to transform your kitchen cabinets just like we did with the ones below!