The style and design of your kitchen cabinets can greatly impact the overall look and feel of the room. Choosing cabinets that align with your lifestyle is important for creating a comfortable and functional kitchen space.
But what alternatives exist if you cannot afford to purchase new semi-custom or custom cabinets and your existing cabinets are outdated?
This article will discuss seven ways to update kitchen cabinets that are both affordable and effective, allowing you to create a space that suits your preferences and aesthetics.
Let's begin.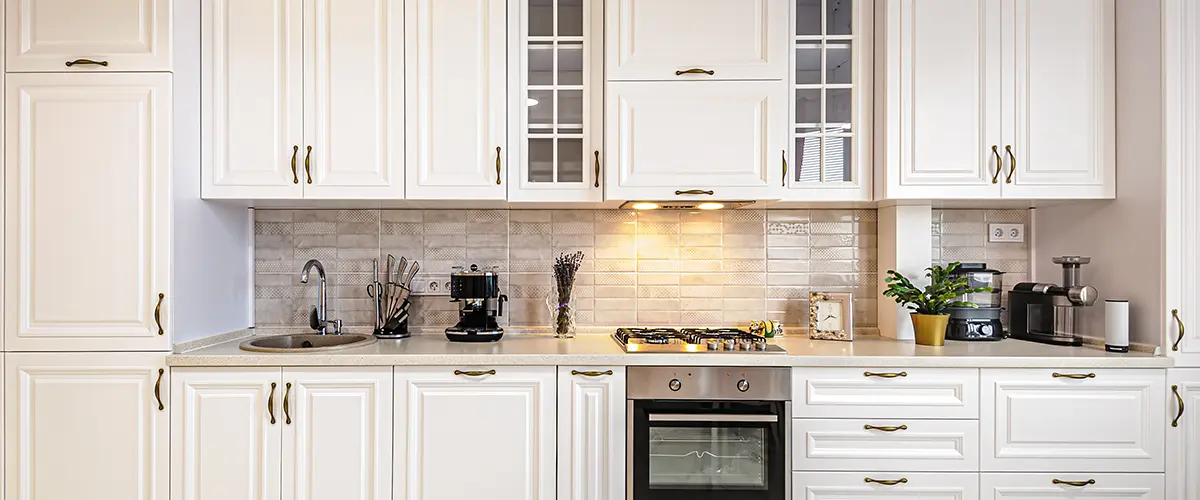 1. Refinishing Kitchen Cabinets
Refinishing kitchen cabinets is more cost-effective than purchasing new ones, despite the fact that it still involves some expenses.
To refinish cabinets means sanding them down and applying a fresh coat of paint or stain to give them a renewed appearance. While this won't improve their functionality, it will greatly enhance their aesthetic appeal.
Hardwood cabinets can be refinished multiple times without getting damaged. Applying a new coat of stain instead of paint is recommended for cabinets with hardwood doors and faces. Painting the cabinets would work better if the cabinetry is made of MDF.
2. Resurfacing Kitchen Cabinets
Resurfacing kitchen cabinets is a process that can give your old cabinets a brand new look (like refinishing) and improve their functionality without replacing them altogether.
Resurfacing involves replacing only the cabinet doors and drawer fronts while leaving the cabinet box untouched. It's a great way to give your cabinets a fresh look, update the style of your kitchen, or create more space.
If you want to improve the look of your kitchen cabinets, refinishing them will give you the highest return on investment. However, resurfacing them is still a better investment than completely replacing them. If you're looking to change the style of your kitchen, it's best to only replace the cabinet doors instead of the entire cabinet.
Ensure you check the cabinet box's state before installing the cabinet doors again. Use wood glue and wood filler to fix any visible chips or cracks.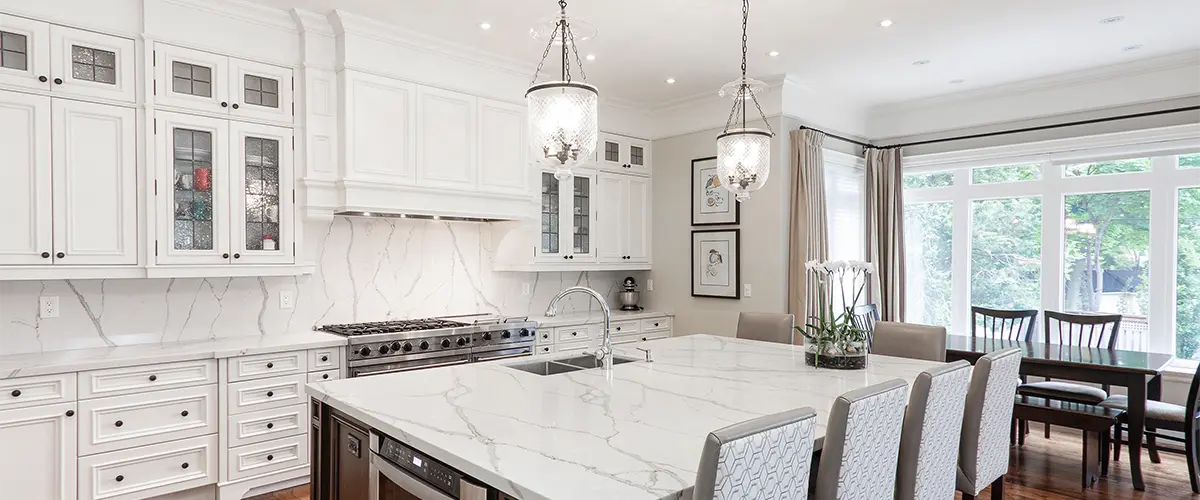 3. Replacing Cabinet Hardware
Let's move down to even more affordable ways of updating kitchen cabinets.
To update kitchen cabinets quickly and easily, consider replacing their hardware, such as knobs, pulls, and hinges.
Replacing the hardware on your cabinets can provide a fresh look to your kitchen without breaking the bank. Hardware comes in various styles and colors, enabling you to select something that complements your current cabinets seamlessly.
In addition to enhancing the appearance, upgrading your hardware will improve the functionality and accessibility of your cabinets. Soft-close hinges, which are highly sought after by most of our customers, are a great example. They help keep your kitchen silent and your cabinet boxes in good condition.
4. Adding Molding to Kitchen Cabinets
If you think that your kitchen cabinets are lacking something and are in good condition, it may be due to the absence of molding. Crown molding is a decorative piece that covers the space between the top of your cabinets and the ceiling.
If you want to enhance the appearance of your cabinets without overspending, consider using molding to add more detail, character, and depth.
To match your kitchen style, explore the various types of molding available. Don't forget to take measurements of your cabinets before purchasing molding to ensure a proper fit.
If you have kitchen cabinets in your kitchen, you're probably familiar with the issues that come with corner cabinets. They're difficult to access, inefficient, and often underutilized or unused at all.
To clarify, corner solutions refer to upgrades such as Lazy Susans that provide improved accessibility in tight spaces. 
They are preferable to having door knobs or handles that might hit the adjacent cabinet door and are much better than not utilizing the corner cabinet at all.
To enhance your kitchen's aesthetic and efficiency, consider installing undercabinet lights.
These lights brighten up your kitchen and improve visibility and make your countertops and cabinets appear more vibrant and appealing, particularly at night.
Various options for undercabinet lights can match your kitchen's style. We recommend choosing low-voltage lights with a long lifespan to avoid frequently replacing them.
Consider installing pull-out shelves if you want your kitchen to be more organized and efficient. These shelves make it easier to reach items stored in the back of your cabinets, which is especially useful when you're cooking.
Organize your kitchen better with pull-out shelves. You won't have to search through cabinets as everything will be easily accessible. Utilize the shelves to store bigger items such as pans, bowls, utensils, and even the recycling or trash bin.
There's a wide variety of pull-out shelves to choose from, so you can pick one that matches your kitchen's style. Ensure accurate cabinet measurements before purchasing any pull-out shelves to ensure a proper fit.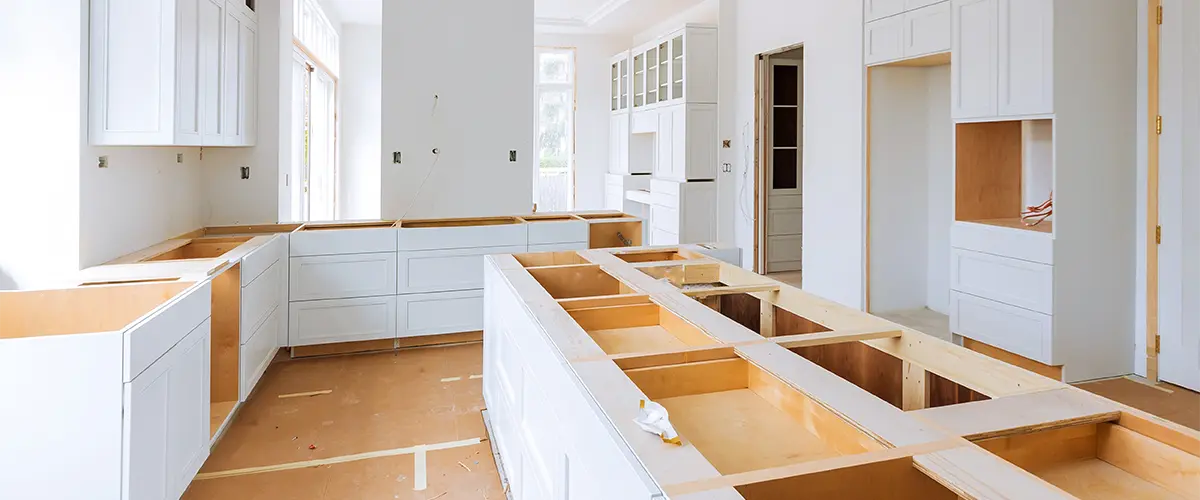 There are multiple ways to update kitchen cabinets; each method offers unique benefits. Refinishing cabinets enhances their appearance, while replacing the hardware greatly improves their functionality.
Your kitchen cabinet makeover's success will depend on how well it matches the rest of your kitchen. If you have dark cabinets, make sure to choose a color that goes well with them. Ensuring that the upper cabinets are tall and wide enough is also important. You might even consider adding a glass panel to increase their usefulness.
Call us today at (715) 551-7328 to find the best ways to update your cabinetry, or request a quote and we'll reach back to you as soon as possible!