With the amount of time and energy you spend in your kitchen, it should be a space that feels fresh, organized and most importantly, brings you joy.
Remodeling is the first thing you can do if this space doesn't feel like yours anymore, but the kitchen remodel cost may sometimes be an obstacle in your endeavor to boost the efficiency of this room.
Below, we will break down the cost of a kitchen remodel so you know how much to budget to get your dream kitchen started!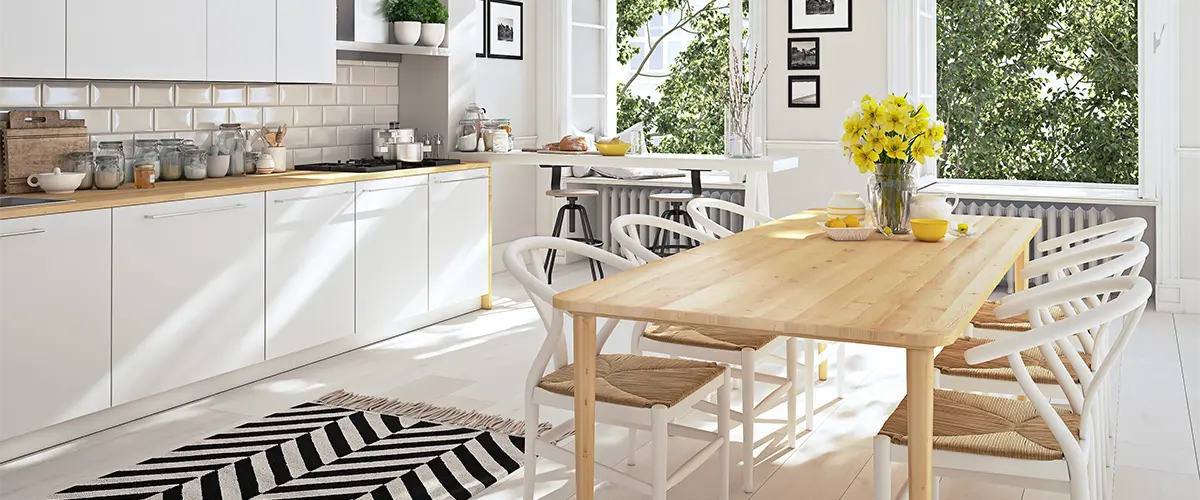 Kitchen Remodel Cost Breakdown
At Remodeling Journey, we want to help you create your dream kitchen! 
Depending on your specific project, the cost can range from $39,000 to over $100,00. These prices are averages and can change depending on a variety of factors. 
You can get an exact number -a pricing promise- with an in home consultation.
Let's break that down a little more to understand what your money would be providing you.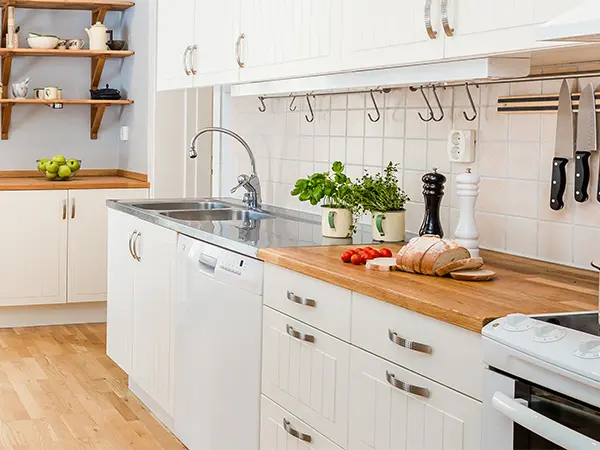 Includes refacing existing cabinets with new hardware, countertops, lighting, new sink and faucet, new tile backsplash and painting.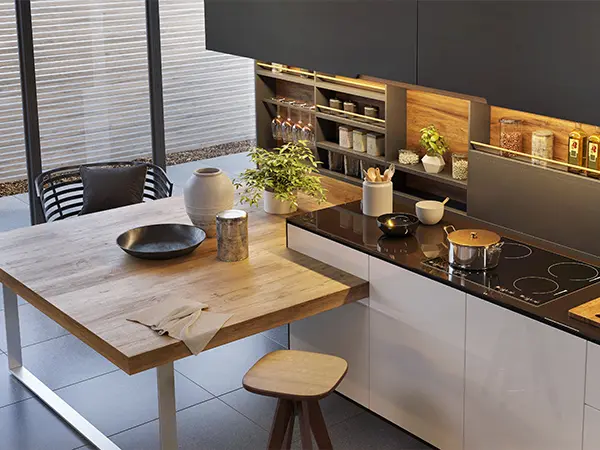 Includes semi-custom cabinets with quartz countertops, new backsplash, hardware, sink and garbage disposal. Also includes new flooring, painting and updated lighting configuration.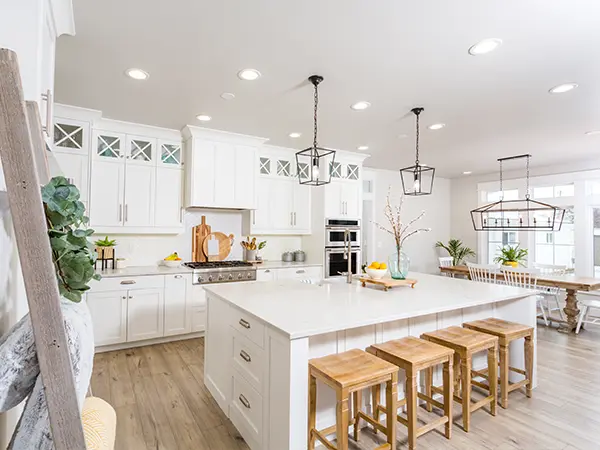 Includes custom cabinetry with quartz countertops and backsplash, new hardware, sink with garbage disposal, new flooring, painting, and smart lighting configuration. Also includes building a kitchen island, new trim and crown molding, and upgraded appliances.
We like to be very transparent with pricing, so you are able to plan and prioritize your dream kitchen. That being said, there are certain factors that will affect your cost based on your current kitchen and your dream kitchen.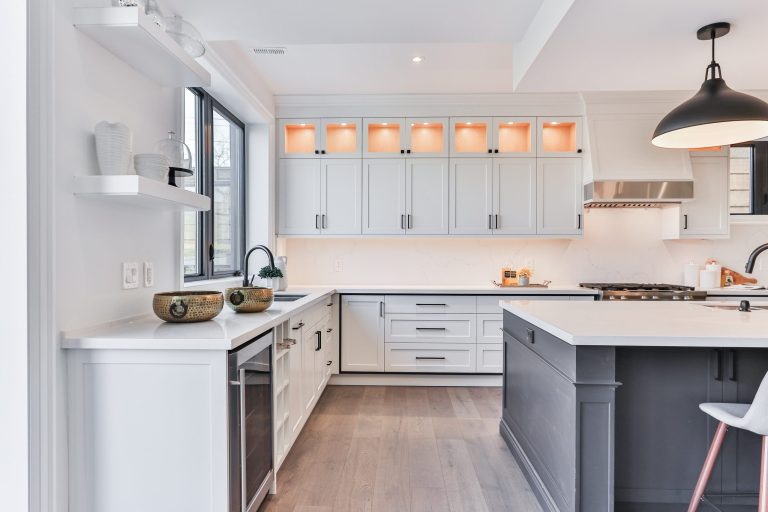 The size of the kitchen can have a huge impact on the final price for remodeling. The larger the kitchen, the more materials are needed to purchase things like countertops, cabinets, flooring, backsplash tiles etc. 
 In general, the amount of time and labor spent on larger kitchens is greater than one smaller in size – especially if a lot of demolition needs to be completed.
It is worth noting that depending on the specific updates and materials chosen, a small kitchen remodel can still have a higher price tag. 
For example, if the homeowner with a large kitchen only wants a few updates, like a backsplash and new hardware on their cabinets, it will be less expensive than putting in custom made cabinets and quartz countertops and all new high end appliances in a smaller kitchen.
Depending on where a kitchen "starts" and where it needs to "go" can potentially be a big factor in cost fluctuation. 
A popular choice for many customers is to transform their closed, confined cooking space into a more open concept layout. (Which by the way… we love!) This could potentially mean:
More drastic changes in layout can mean more fluctuation in pricing (but also an amazing "WOW" factor when your new kitchen is finally revealed).
One of the perks of choosing Remodeling Journey to do your kitchen remodel is the chance to customize your new space to EXACTLY how you want it. 
That being said, the price varies greatly based on the customer's choice of products and materials used in their remodel. Below are items that can vary greatly in price depending on the material or products you chose.
You would NOT believe the variety of custom kitchen cabinets you can choose from these days! 
 Did you know that they can install "soft close" cabinet doors that don't make a sound? Or you can have a custom-made spot for your big Kitchen Aide mixer so that you don't have to lift it up out of the cupboard EVERY. SINGLE. TIME. (If you own one, you know how much those monsters weigh!) 
These days, it seems like the sky's the limit with custom cabinetry. That being said, the price varies greatly from basic cabinetry to cabinets with all the "bells and whistles".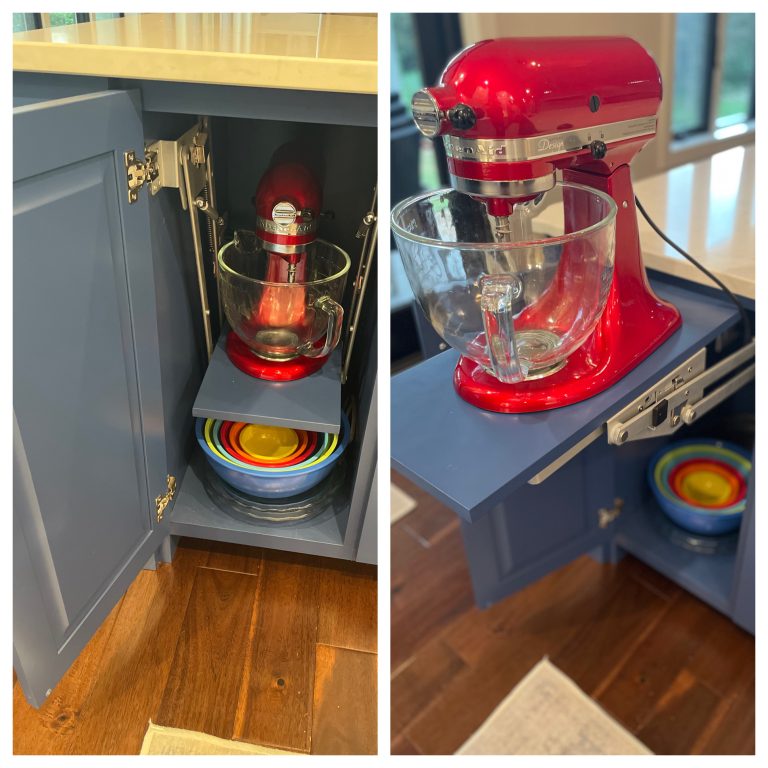 Updating your countertops can make a huge difference in the look and feel of your new kitchen. The price between low grade laminate and higher grade granite, quartz, or marble are significantly different. All can look lovely in a new kitchen remodel, but it is up to you and your family's preferences and budget.
Appliances can significantly change the price of your kitchen remodel, depending on what you choose. 
Does your home have newer appliances already that don't need replacement? Or, is it time for a complete fresh start, a brand new, matching, stainless steel refrigerator, stove, oven, dishwasher, etc?
If you are buying new, there is still a wide range of quality and sophistication within each product. Did you know you could potentially get all of your appliances for around $6,000 or a professional grade stove ALONE could cost over $15,000?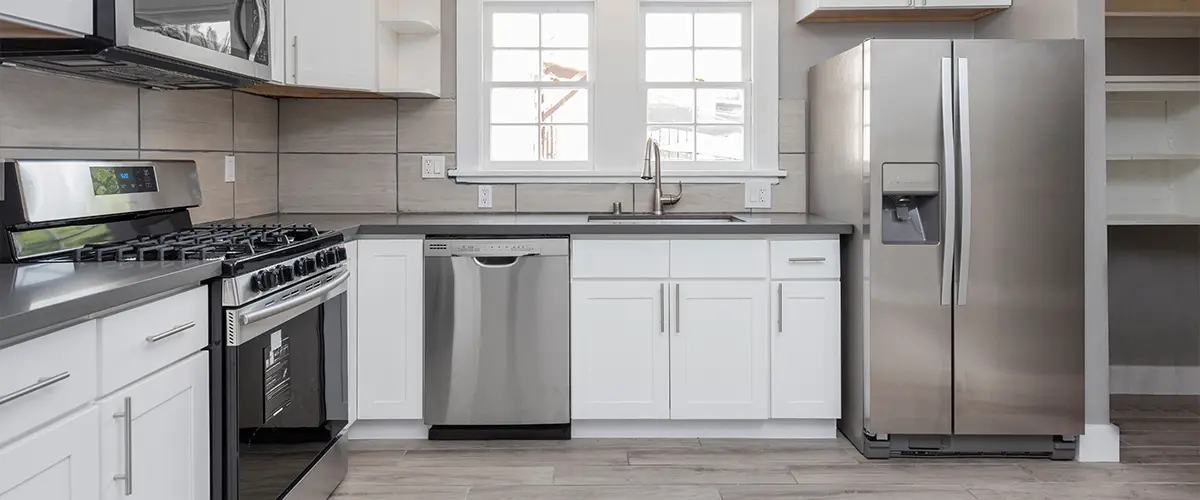 Lighting is a similar story. A basic lighting pendant could start at $50, or you could find the light fixture you love that completes your kitchen for over $600.
Other material and product choices that could potentially affect your cost include: backsplash, faucet, sink and flooring.
What it comes down to, is that you get to decide what your priorities are for your new kitchen space and what works with your budget. Maybe you want to splurge a bit on the beautiful sparkling granite countertops, but are fine with nice laminate flooring. We will work with you to make your kitchen dreams come true while staying within your budget.
Is The Kitchen Remodel Cost Worth It?​
After crunching the numbers, the cost for a kitchen remodel may seem a bit daunting. You want a new space, but is it really worth the cost with all of your other expenses? 
Short answer…YES! ABSOLUTELY! (Long answer….read the reasoning below).
At Remodeling Journey, we believe that investing in your home will bring you many benefits for years to come and is definitely worth the cost.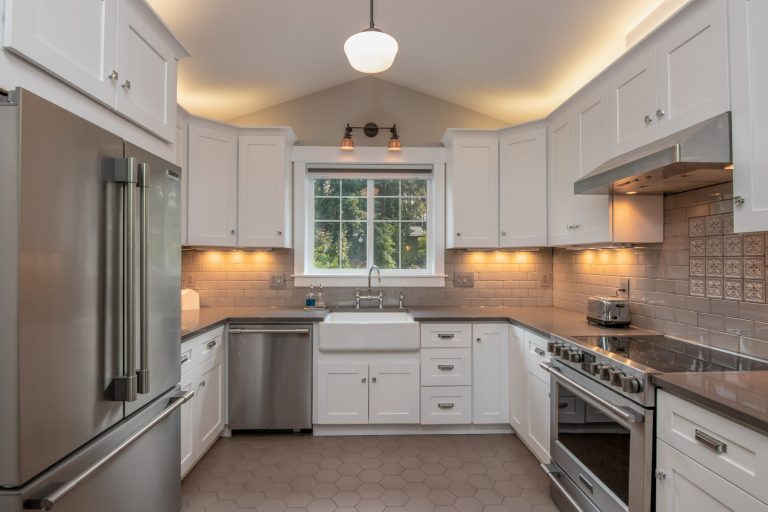 Organization and Functionality
What is the one kitchen cupboard that you are scared to open when guests are around? 
You know… the one where the random tupperware with mismatching lids start falling to the floor as soon as the door opens a crack. Or the other one that can't fully close because the blender or mixer doesn't quite fit and there are cords sticking out the bottom.
As I stated before… you wouldn't believe what the possibilities are for cabinets and organization. Not only can we increase the size of the cabinets to maximize the space, specific extras can be custom built into your kitchen. 
Below are just a few options that could be added to help make sure that everything in your kitchen has a home:
The list goes on and on… These additions are a dream come true for most chefs. You will be able to declutter and organize your kitchen essentials and every shelf will be an area you can be proud of.
A "Return on Investment" (or ROI for short) is a mathematical formula that investors can use to evaluate the value of their investment. 
Basically, is it worth the money I am spending? On average, a homeowner can expect a ROI of 50%-80% on a kitchen remodel, depending on the factors listed above as well as the home location. For example if you invested $68,000 for an average kitchen remodel, you can expect a ROI to be around $40,000.
So not only are you getting the kitchen of your dreams, you are also investing and adding value to your home. It is a WIN-WIN!
You've heard it before…"Kitchens Sell Homes". More than half of the buyers in today's market consider a kitchen remodel as an important upgrade when selecting their future home. 
Now, we don't think you will WANT to sell once you lay eyes on your brand new kitchen…. but if you do, it is sure to attract more buyers with the new upgrades.
Did you know that there are around 50,000 home fires a year that are linked to electrical issues? That is scary! Faulty outlets, outdated appliances and unsafe electrical wiring are oftentimes the cause of these fires.
Depending on the age of your home and who initially installed your kitchen, the outlets and wiring may not be safe. We absolutely care that you love your new kitchen remodel, but we value your safety even more. We will make sure your final dream kitchen is not only beautiful, but also safe and up to code.
This might be the most important reason that you should prioritize a kitchen remodel over other expenses. Joy is hard to measure with data, but when you feel good that positivity will rub off on others around you.
You deserve to feel joy in a room where the average adult may spend over 400 hours annually.
When you have a cooking space that looks and feels clean, fresh and inviting it won't feel like a chore to cook supper for picky eaters or do clean-up duty after a long night of entertaining family and friends.
At Remodeling Journey, we focus on giving you some of the most cost-effective remodeling solutions for your dream kitchen. 
We put at your disposal talented designers and passionate builders to create a space that represents you and makes your day-to-day life so much better than before.
And while we know the cost to remodel a kitchen is hefty, know that we've worked with all kinds of budgets to give our customers a space tailored precisely to their needs and preferences.