You've started the process of researching the ins and outs of your home projects. You may be at the point where you want to prepare before you call a contractor. 
Maybe you have already started talking to contractor(s), or, maybe you're planning to DIY this! No matter what stage you're in, you want to make sure you're prepared. 
But how long does a renovation take? Good news, you've come to the right place.
First before we dive in, there are a couple of things to touch on.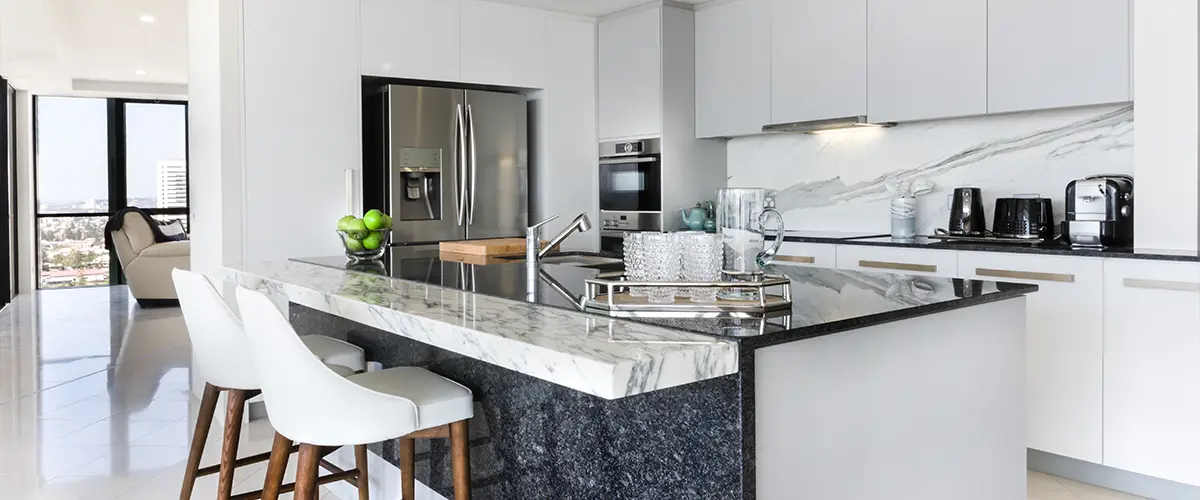 When we say how long these projects will take, we mean from start to finish of the actual build process. 
This means from the very first day a project is started, likely with demolition. 
We aren't talking about the length of time from the first contact with a contractor, or from the first time you begin to order materials if you're doing this yourself.
Renovation and remodel are often used incorrectly, here's the key difference.
How Long Does A Renovation Take?
Short answer: it really depends. 
Now I know that's not the answer you want to hear, but it really depends on the scope of work which is how much is work is being done to the space. 
On average, if we are completely remodeling a space it will currently take an average of 2-3 months for a kitchen, 2 months for a bathroom, and 2 months for a basement.
When you start dreaming about your beautiful new kitchen you may begin to think about cabinets, countertops, flooring, backsplash, lighting, sinks, faucets, storage, and much more. 
What really influences how long a kitchen will take is what you want to do. For example is you're looking for a quick update: painting cabinets, changing cabinet hardware, and installing new flooring; you can expect your project to take 2-3 weeks. 
If you are looking to reface your cabinets (not refinish), new cabinet hardware, new flooring, change lighting fixtures and layouts, new backsplash, new laminate countertops with a new sink and faucet; you can expect your project to take 2 months. 
If you are going all out with a complete kitchen renovation or remodel with quartz or granite countertops and new cabinets you can expect 3-4 months.
The three factors that can really alter how long your kitchen project will take are: cabinets, countertops, and material availability.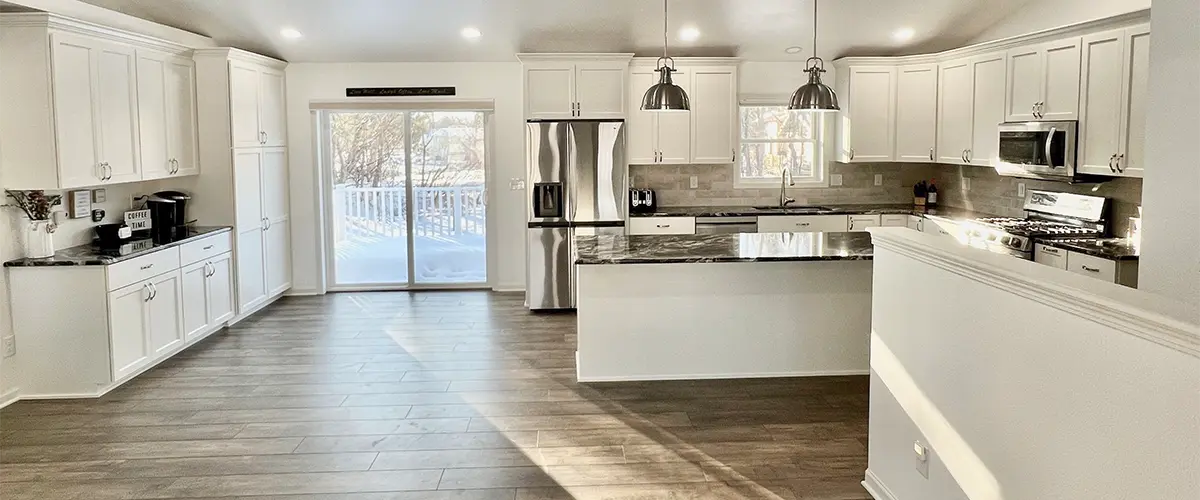 If you decide to go with new semi custom or fully custom cabinets (not from big box stores), you can expect that most builders will tell you to prepare for 8-12 weeks just for them to be built. 
This is after all measurements are taken, you have picked all of your selections (style, sizes, layout, finishes, moulding…), and you have put down a deposit. 
If you, or your contractor plan this out right, your project can be underway when the cabinets are ready, which will cut down on some weight time. 
Thus, just because it takes 8-12 weeks for cabinets to be built, doesn't mean your project will take longer than that.
If you decide to go with laminate you likely will wait 2-3 weeks for your counter tops to be ready and installed. 
If you are having new cabinets installed, you have to wait for this to be done in order for countertop templates (measurements) to be taken. This means, once your new cabinets are installed, then a template can be taken, and then you will wait 2-3 weeks for the counters to be installed. 
If you decide to go with granite or quartz countertops, you can likely be waiting anywhere from 4-8 weeks. YES, 4-8 weeks… and again, after cabinets have been installed.
Considering the state of the world currently, there are delays in just about everything. Appliances, cabinets, lights, faucets, sinks… the list goes on and on. 
If you have a knowledgeable contractor who has great relationships with his vendors (or DIYers – who do a lot of research), you can plan out selections based on materials that are more readily available. 
We have waited 9 months for a fridge to be delivered in one of our kitchens. After 9 months, the fridge still wasn't delivered, and so we canceled the order and found some in-stock to offer our client. 
It wasn't due to lack of planning as we ordered the fridge approximately 6 months before the remodel was to begin. 1 week before our scheduled delivery, we would get a call that our order was delayed and the process would repeat.
Expect the worst and plan for the best.
When you start dreaming about your beautiful new bathroom you may begin to think about a fully tiled shower, new heated floors, a beautiful vanity, and some new hardware. What really influences how long a bathroom will take is what you want to do. 
For minor changes new floors, vanity, painting, lighting, you can expect 1-2 weeks. For a major remodel or renovation, with a new tiled shower, you can expect 6-10 weeks.
The two factors that can really alter how long your bathroom project will take are the shower material, and shower enclosure.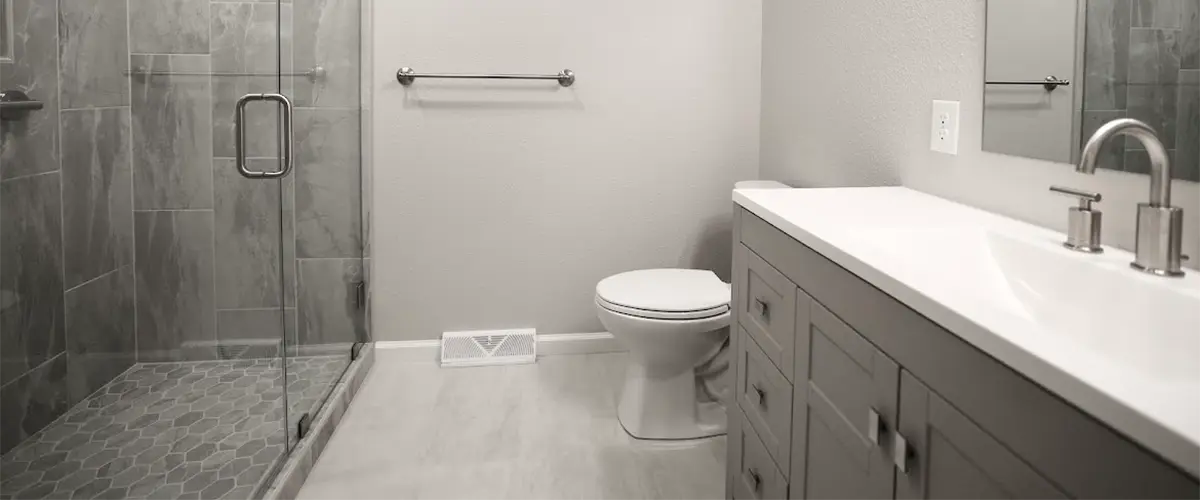 Are you thinking about a shower insert or a fully tiled shower? A shower insert can take a matter of a few hours to install while a tiled shower can take a few weeks.
If you are opting for a glass enclosure for your shower, you could be waiting an additional 3-6 weeks after the shower is complete for the glass surround to be installed. 
Once your tiled shower is installed, precise measurements can be taken to build a glass enclosure that perfectly fits your space. If you want to go with a shower curtain and rod, no additional time will be needed.
When you start dreaming about your beautiful basement you may begin to think about a another finished space in your home to hang out. Or, you may be thinking about a bar, or home entertainment area. What really influences how long a basement will take is what you want to do. 
For a standard basement finish you can expect 2 months for framing, lighting, drywall, flooring, trim, and painting. If you are dreaming big with a custom dry bar, wet bar, home entertainment area, built ins, or other custom features, you can be looking at an additional few weeks to months.
The one factors that can really alter how long your basement project will take are the added custom features, including the cabinets and countertops (the same situation as for kitchen cabinets).
For basements, you'll most likely always need a building permit, as you're changing the structure of the space and adding plumbing/electrical systems.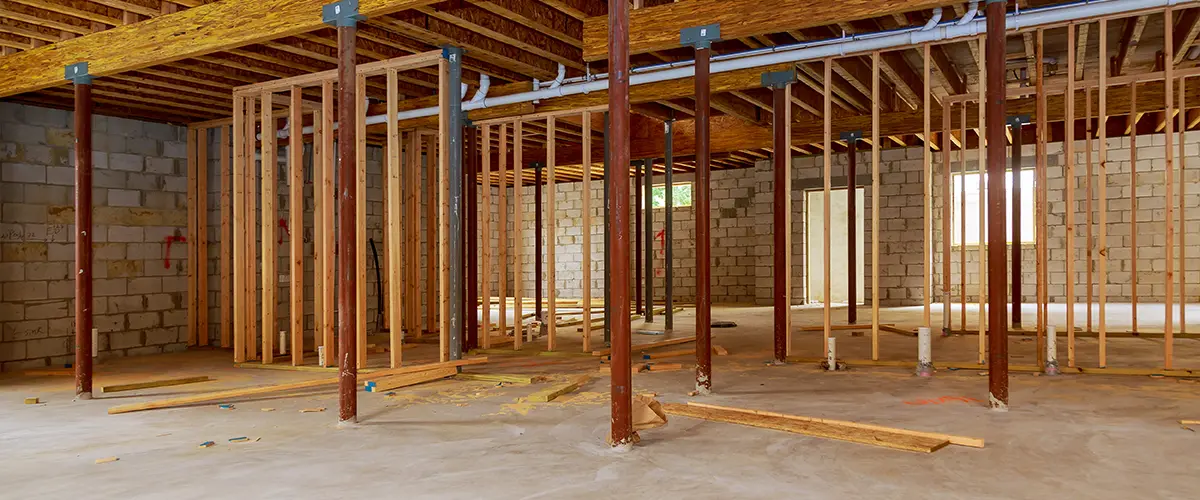 If there's one takeaway worth keeping in mind for your upcoming remodel, is that your project's timeframe will depend mostly on your choice of materials. Custom features will take a lot of time to manufacture, and stock options will save you a lot of time.
With Remodeling Journey, after our on-site consultation we'll give you an accurate timeframe for your project, and we'll do our best to keep your project on track.
If anything goes sideways, we'll always let you know and we'll give you a cost-effective alternative that doesn't sacrifice anything from the quality of your new space.
If you want to work with an efficient contractor that keeps you in the driver's seat of your project, give us a call at (715) 551-7328 or request your free quote right now!